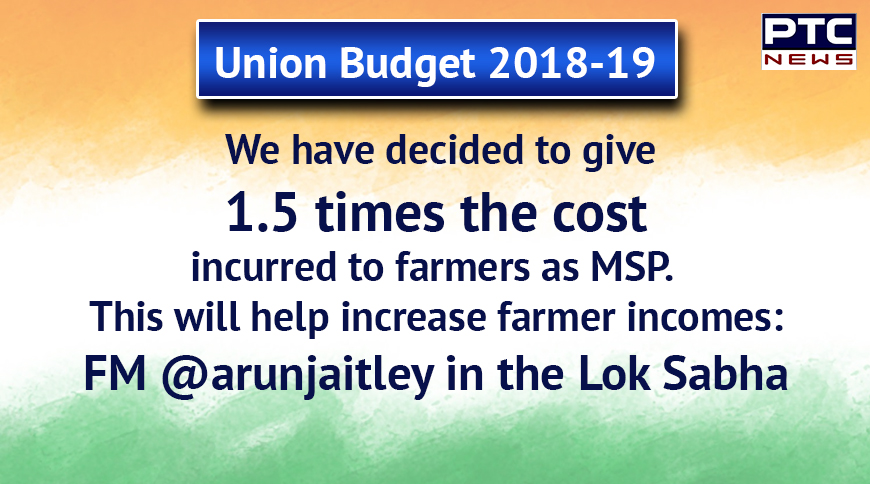 Big boost to Kharif crops
MSP for Kharif crops to be 1.5 times the cost of produce, announces Jaitley. "The government will create an institutional mechanism involving all concerned ministries so that the farmers get a better price for their produce," says Jaitley.
Our emphasis is on generating higher income for farmers. We want to help farmers produce more and realise higher prices, says Finance Minster Arun Jaitley.
"Cultivation of horticulture produces in a cluster-based manner create avenues for more produce," says Jaitley.
Setting up Agriculture Market Fund with a corpus of Rs 2,000 crore, says Jaitley.
42 new Mega Food Parks proposed
Jaitley says the government will work with NITI Aayog to develop system of optimal farm price realisation and develop existing 22,000 GRAM centres. GRAMs to help farmers for direct sales
@INRBONDS organic farming promotion. food processing Rs 1400 cr allocation, keep down spikes of Potatoes, Tomatoes, Onion Rs 500 cr allocation
I propose to extend Kisan Credit Card facility to Fisheries and Animal Husbandry farmers :FM Arun Jaitley
Rs 1290 crore to support bamboo #BudgET2018
I propose to extend Kisan Credit Card facility to Fisheries and Animal Husbandry farmers :FM Arun Jaitley
Rs 1290 crore to support bamboo
The Minimum Support Price of all crops shall be increased to at least 1.5 times that of the production cost
बहुत बहुत शुक्रिया @narendramodi जी और @arunjaitley जी
The budget will work with states to provide more resources to improve quality of education, says @arunjaitley
500crs for Operation Green - on lines with operation flood to promote FPOs
India's agri exports potential is as high as $100 billion - Arun Jaitley
The Minimum Support Price of all crops shall be increased to at least 1.5 times that of the production cost
-PTC News