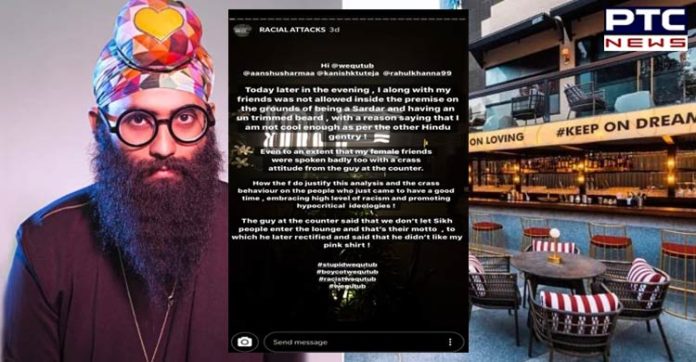 A Sikh man was allegedly denied entry into Delhi's posh restaurant, We Qutub, allegedly due to his religion and attire. The man has been identified as Param Singh, a Sikh who took to Instagram, accusing the staff of misbehaving with him and his friend on Saturday night. In the Instagram story, he wrote, "Today, later in the evening, I along with my friends, was not allowed inside the premises on the grounds of being a Sardar and having an untrimmed beard, with a reason saying that I am not cool enough as per the other Hindu gentry."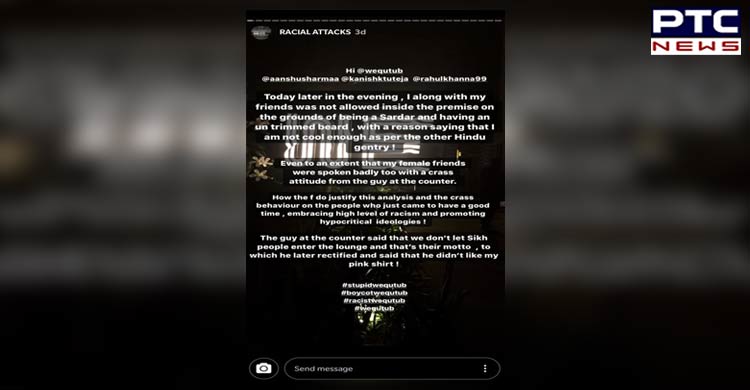 The post also mentioned, "Even to an extent that my female friends were spoken badly too with a crass attitude from the guy at the counter." He accused the restaurant management of misbehaving with customers, displaying racist behaviour and hypocrisy.
"The guy at the counter said that we don't let Sikh people enter the lounge and that's their motto, to which he later rectified and said that he didn't like my pink shirt", the post said.
The restaurant, We Qutub, posted an official apology on the Instagram page. The post said, "At We Qutub, we respect and value each customer keeping aside religion, caste and any other such variable. For us, everyone is equal and we are extremely sorry for the misunderstanding". In the apology, restaurant authorities assured that remedial action had been taken. "We would like to inform you that instant corrective measures have been taken regarding the concerned manager and he has been fired following this intolerable misconduct."
Also Read: Indian Family caught red-handed, while stealing from Hotel in Bali, watch video
The post ended with restaurant authorities saying that they would organize a langar for 100 underprivileged children on Param's request.
PTC News