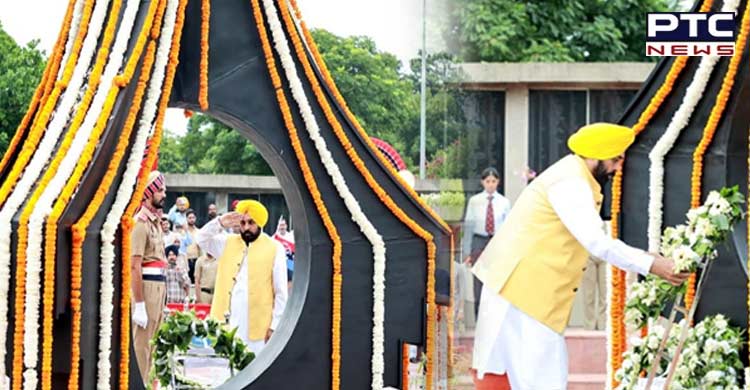 Chandigarh, July 26: Punjab Chief Minister Bhagwant Mann paid tribute to the martyrs on Tuesday in commemoration of Kargil Vijay Diwas and said that the "supreme and unparalleled sacrifice made by the brave soldiers during the Kargil war will always inspire youth to serve the country selflessly with missionary zeal and patriotic fervour."

Interacting with the media persons at the War Memorial on Tuesday, the Punjab Chief Minister said that Kargil Vijay Diwas is a symbol of extraordinary valour of the Indian Armed forces. The Indian soldiers had scripted an unprecedented tale of sacrifice, heroism and valour during this war.
He further added that "despite all odds, the Indian soldiers defeated the Pakistani armed forces that had intruded in Kargil, Drass and Batalik areas in July 1999."
Bhagwant Mann said that "the unparalleled bravery and heroism exhibited by Indian soldiers hardly find any parallels in the history of the world," adding that it will always inspire youngsters to join the Indian forces and serve their motherland.
Also Read | Vicky Middukhera murder case: Mohali police file chargesheet; 3 shooters among six named
Earlier, the Punjab CM laid a wreath at the War Memorial at the Bougainvillea Garden in Chandigarh and saluted the brave sons of Punjab who laid their lives during the Kargil Operations.
Bhagwant Mann further said that the country will always remain indebted to its valiant sons who safeguard the borders of the country even in scorching heat or freezing cold temperatures. He added that recognising the immense contribution of the soldiers, the state government has decided to provide Rs 1 crore financial assistance to the family of any soldier attaining martyrdom during the call of duty.
The CM also said that "this is state government's humble tribute to the selfless service being done by the soldiers."
Also Read | Mass shooting in Canada's British Columbia; gunman among three dead
-PTC News