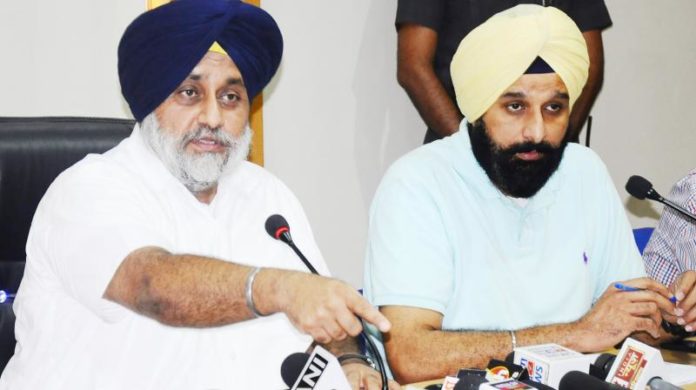 Sukhbir Badal Condemns Rahul Gandhi For Justifying Lynch Mentality Of Gandhi Family
Shiromani Akali Dal (SAD) president Sukhbir Singh Badal today said Congress president Rahul Gandhi had justified the lynch mentality of the Gandhi family by shamelessly denying the Congress party's role in the organized massacre of Sikhs in 1984 and had by this act become a 'bhagidaar'  in this most inhuman and dastardly act.
Addressing a press conference at the party headquarters here, the SAD president said now it was paramount for Rahul Gandhi to explain what hold the perpetrators of the 1984 Sikh massacre had over him and whether he had given a statement in Berlin denying the Congress party's hand in the genocide at their instance. "There can be no other reason for your volte face on the Congress hand in the 1984 genocide against Sikhs after former Prime Minister Dr Manmohan Singh apologized for the killing of innocent Sikhs and then party President Sonia Gandhi expressed regret for the same. You should tell the nation why these apologies were proffered if the Congress was not bhagidaar in the worst ever mass lynchings seen in world history", he added.
Mr Badal also reminded Rahul Gandhi that he had in an interview on March 16, 2014 stated that he shared the sentiments of both Dr Manmohan Singh and Mrs Sonia Gandhi on this issue. "Why this about turn now?  Are you sending across a message of assurance to 1984 lynching perpetrators Jagdish Tytler and Sajjan Kumar before they are jailed in this case that the Congress party will continue to support them and that they should not spill the beans about the role of the Gandhi family in the 1984 mass killings?" he asked.
Asserting that all this proved that the Gandhi family was behind the killing of thousands of Sikhs in 1984, Mr Badal said Jagdish Tytler had already admitted to this role by stating that he drove Rajiv Gandhi in an Ambassador car on November 1, 1984 to places like Azadpur Mandi and Mukherjee Nagar when killings of Sikhs and looting and burning of their properties was in full swing. "This amounts to admitting Rajiv Gandhi supervised massacre of Sikhs, a fact which is also corroborated by the Nanavati Commission which stated that maximum Sikhs were butchered in areas which Rajiv Gandhi visited on Nov 1, 1984"
Stating that Rahul Gandhi knew about the role of Tylter and Sajjan in the 1984 massacre, Mr Badal it was due to this that on April 4, 2018 during Congress party day long hunger strike both Tytler and Sajjan were asked to leave the stage before Rahul Gandhi joined the event. Earlier the Congress party sacked Tytler as minister for the same reason and even denied him a Lok Sabha ticket", he added.
Telling Rahul Gandhi that he could try his best to save the butchers of 1984, Mr Badal said "we on our part will continue to fight for justice till the perpetrators of this ghastly crime are not jailed". He also advised Rahul that if he had real respect for Guru Nanak Dev ji as he purportedly claimed then he should facilitate the immediate arrest and jailing of both Tytler and Sajjan.
The SAD president also lambasted Cooperation minister Sukhjinder Randhawa saying the Congress leader had admitted while answering a question in the Vidhan Sabha that his father Santokh Randhawa had supported Indira Gandhi after the 1984 attack on Sri Darabar Sahib and even justified the attack. He said this was not all. Randhawa had recently even distorted 'gurbani' and claimed that "Auranzeb Sahib" wrote the Jaffarnama. He said while the Sikh quom would never forgive Sukhi Randhawa for these transgressions, he said chief minister Capt Amarinder Singh should sack Randhawa forthrightly for hurting the sentiments of the Sikh community.
Mr Badal also questioned the silence of the bogus Jathedars who had not reacted to Rahul Gandhi's statement. He said they were similarly quiet about the transgressions of Randhawa making it clear that they were hand in glove with the Congress party.
Others who were present at the press conference included Mr Bikram Singh Majithia, Dr Daljit Singh Cheema, Mr Manjinder Singh Sirsa and Mr N K Sharma.
-PTC NEWS