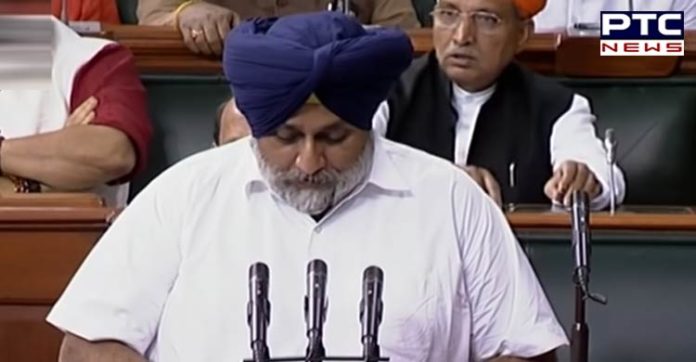 Shiromani Akali Dal (SAD) president Sukhbir Singh Badal today made out a strong case for making Chandigarh the capital of Punjab and remittance of all resources and revenues collected from the union territory to Punjab besides payment of royalty to Punjab for use of its water resources.
In a forceful speech while speaking on the General Discussion on the union budget in parliament, the SAD President, who also represents Ferozepur parliamentary constituency, said not only did the centre's promise for making Chandigarh the capital of Punjab remain unfulfilled till now, but the parent State was also denied the revenue and resources generated by Chandigarh. Stating that capital cities were force multipliers, Mr Badal said the amount of revenue a State capital could generate was phenomenal. "Look at Mumbai. It is generating so much revenue for Maharashtra that without it the parent State would suffer an imminent financial crisis".
The SAD president also urged that Punjab be paid royalty by Rajasthan which was availing of its water resources. He said Punjab had been feeding the nation since independence. He said this had led to a water crisis in the State and the situation being such that water blocks in Punjab were now more exploited than those in Rajasthan. "As compared to 80 per cent water blocks which have been over-exploited in Punjab, in Rajasthan 71 per cent of water blocks have been over-exploited".
Stating that Punjab's demand for royalty on water was just, the SAD president said in the last ten years despite six deficient monsoons, Punjab farmers had increased productivity of paddy and wheat. He said this had however come at a great cost with the State's only resource "water" becoming depleted. He said this resource should be given same importance as those of coal, iron ore and gas. Mr Badal said now was also the time for the country to help Punjab and urged that it be granted special funds for upgrading its canal system, rejuvenating ground water, diversifying from wheat and paddy and assured msp for alternate crops.
Speaking about the problems being faced by border farmers whose lands are situated along the Pakistan border in no man's land, Mr Badal said farmers tilling 17,000 acres of land did not have freedom to tend to their crops or irrigate wheat, mustard, chana and vegetables. He said either this land should be acquired by the central government or it should pay yearly compensation of Rs 20,000 per acre to the farmers.
In a most evocative speech, the Ferozepur mp also made out a strong case for giving Tax Holiday to Punjab and apprised the House that Punjab had suffered for two decades because of the exodus of industries to neighbouring hilly states like Jammu and Kashmir, Himachal Pradesh and Uttrakhand which had been given extended Tax Holidays to encourage industries in these states. He said the state of Punjab had its own set of dynamic parameters with it being a sensitive border State besides being land locked and far from ports which made it a just case for giving it a Tax Holiday to incentive industry and bring in much needed investment.
The SAD President also termed the union budget presented by finance minister Nirmala Sitharaman as a bold, revolutionary and futuristic document which addressed the concerns of all sectors and complimented the vision of Prime Minister Narendra Modi who "thinks big and aims to achieve big".