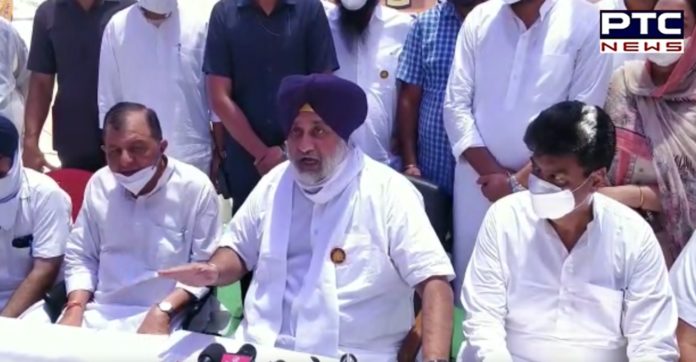 SAD Political Affairs Committee: Shiromani Akali Dal President Sukhbir Singh Badal on Thursday announced 77 member Political Affairs Committee (PAC) of the party.

Disclosing this, Shiromani Akali Dal Senior Vice President and Spokesman Dr. Daljit Singh Cheema said that SAD's Political Affairs Committee announced by Sukhbir Singh Badal has all senior and hard-working members of the party.
Also Read | COVID-19 antibody cocktail 'Casirivimab and Imdevimab' effective against B.1.617: Expert
He announced the names of those who have been taken as members of the Shiromani Akali Dal's PAC.
Also Read | Sukhbir Singh Badal appoints Surjit Singh Kohli as SAD's Senior Vice President
These include Satinder Kaur Dhaliwal, Vaninder Kaur Loomba, Brij Bhupinder Singh Kang Lali, Nusrat Ikram Khan, Dr. Dalbir Singh Verka, Hari Singh Preet Tractors Nabha, Bhai Ram Singh, Jagjit Singh Talwandi, Gulzar Singh Dirba, Dr. Nishan Singh Budhlada, Jaspal Singh Giaspura, Gurmeet Singh Kular, Ravinder Singh Cheema Sunam, Ashok Kumar Sharma Pathankot, Ravinder Singh Babbal Ferozpur, Pritpal Singh Pali Ludhiana, Dr. Harjinder Jakhu, Parmjit Singh Khalsa Barnala, Parmjit Singh Makkar Ropar, Jathedar Mohan Singh Dhahe Sri Anandpur Sahib, Vishnu Sharma former mayor Patiala, and Suresh Sehgal former Mayor Jalandhar.
Likewise, Giani Niranjan Singh Bhutal Lehragaga, Jathedar Jagir Singh Wadala Kapurthala, Teja Singh Kamalpura, Prof. Manjit Singh Jalandhar, Guriqbal Singh Mahal Kadian, Kamaljit Singh Bhatia Jalandhar, Gurwinder Singh Shampura, Col. Darshan Singh Samadhbhai, Amrik Singh Khalilpur, Narinder Singh Varha Dinanagar, Sukhbir Singh Wahla Batala, Nirmal Singh SS Ludhiana, Jagtar Singh Rajeana, Inderjit Singh Randhawa Dera Baba Nanak, Ashok Kumar Makkar Ludhiana, Surjit Singh Riot Victim Ludhiana, Navtej Singh Kauni, Jagroop Singh Sangat Bathinda, Rajbir Singh udhonangal, Rupinder Singh Sandhu former chairman Barnala, Karmjit Singh Bhagrhana, Satpal Singla Lehragaga, Harjiwanpal Singh Gill Doraham and Gurpreet Singh Cheema Dasuya are part of the SAD's Political Affairs Committee.
It also includes Gurpreet Singh Maluka, Dr. Amarjit Singh Thind, Sajjan Singh Cheema Sultanpur Lodhia, Ranjit Singh Khojewal, Madan Lal Bagga, Lakhbir Singh Laut, Jathedar Santokh Singh Malla Banga, Master Balwinder Singh Goraya Jalalabad, Jarnail Singh Dogranwala, Dilbagh Hussain Jalandhar, Sukhwinderpal Singh Minta Patiala, Iqbal Singh Channi Khnna, Baldev Singh Kaimpur Haryana, Davinder singh Babbal Jalalabad, Kanwaljit Singh Ajrana Haryana, Parmjit Singh Lakhewal Chamkaur Sahib, Sukhbir Singh Maandi Haryana, Sant singh Kandhari Haryana, Sukhdev Singh Gobindgarh Haryana, Sandeep Galhotra Fazilka, Harjinder Singh Lallian Philour, Hardyal Singh Shah, Sucha Singh Dharmifauji, Mohan Singh Bangi Talwandi Sabo, Gurlal Singh Danewalia, Inder Sekhri Batala, Pritam Singh Basti Mithu Jalandhar, Keemti Bhagat Jalandhar, Mohinder Kumar Pappu Rajpura, Satish Malhotra Ludhiana and Sampuran Singh Behak Khas Ferozepur.
Click here to follow PTC News on Twitter
-PTC News