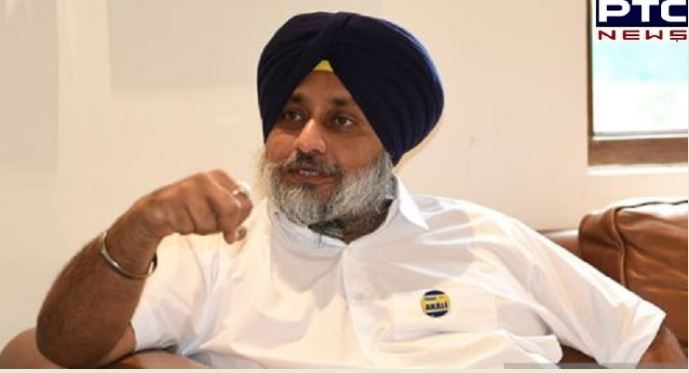 Chandigarh: Shiromani Akali Dal (SAD) President Sukhbir Singh Badal on Saturday condemned chief minister Captain Amarinder Singh for putting Punjab in company of "Bimaru" States under his leadership by notching the dubious 13th rank following evaluation of 18 States on the Good Governance Index (GGI) by the Department of Administrative Reforms and Public Grievances and Centre for Good Governance.
In a statement here, the SAD President said "we have often highlighted that Punjab is in the grip of a policy paralysis which has not only stalled development but ruined its finances and resulted in misery for all sections of society particularly the farmers, youth and the poor. This has now been buttressed by the Union government report which has ranked Punjab near the bottom while judging it on various parameters.
Stating that the report was an indictment of the chief minister, Mr Sukhbir Badal said the report ranked Punjab last on Economic Governance while stating that fiscal deficit as a percentage of GSDP had increased even as its own tax receipts had reduced and the debt to GSDP ratio had increased. "Under Capt Amarinder's leadership against a target of ensuring State taxes add up to 14 per cent of GDP; it added eight per cent only. Punjab was judged a laggard in revenue collection with only 16 per cent of the target of Rs 9,467 crore being achieved in the first seven months of this financial year".
The SAD President the GGI report had also busted the tall claims of the government on ease of doing business and growth of industry and exposed the sham Investment Summit held by the State by ranking it second last in Commerce and Industries category. He said Punjab had also been ranked 15th out of 18 States in Agriculture and Allied Services and 14th in Social Welfare and Development parameters.
Stating that the situation was likely to worsen further with Punjab at risk of being declared a bankrupt State, Badal said "not a single concession promised to the industry has been delivered. No new infrastructure is being created. Employees are not even able to get salaries in time. Promises made to farmers including total loan waiver, those to youth promising Rs 2,500 per month unemployment allowance, jobs and mobile phones and augmentation of social welfare schemes for poor have not been implemented".
Stating that the chief minister was himself responsible for deceiving Punjabis with false oaths on the Gutka Sahab as well as Dasam Pitah, Mr Badal said the Congress government had only bequeathed law of jungle to Punjabis which had resulted in creation of gangsters who were shielded by ministers, repeated power hikes increasing power tariff for domestic and industrial consumers by nearly 30 per cent, loot of State resources by giving free rein to Congress ministers and legislators to indulge in illegal sand mining and rampant corruption.
I challenge Rahul Baba: Amit Shah in Shimla over Citizenship Amendment Act 2019
The SAD President said the chief minister had hurt Punjabi pride by making the once prima donna State into a laggard under his leadership. He said earlier this year the State ranking had slipped to the 20th position from being the top in ease of doing business during SAD-BJP tenure as per a World Bank report. He said Punjab had also been listed in the ranking of 'bimaru' States like Jharkhand during Congress rule as per the Niti Aayog's Innovation Index was concerned.
Asking the chief minister to wake up and perform, Badal said more than 1500 farmers had committed suicide during Congress rule. As many as 500 youth have suffered drug overdose deaths. "Even basic facilities like winter uniform and mid day meal are being denied to school children despite biting cold weather conditions. Youth are being denied SC scholarship and the old and affirm are not being given social welfare benefits".
Badal also assured Punjabis that the SAD would take up all pro-people issues in the coming days and force the Congress government to fulfill the promises made to the people.
-PTC News