Shiromani Akali Dal President Sukhbir Singh Badal on Friday while addressing a gathering at dharna to protest against the state government over the spurious liquor in Khanna, Ludhiana, slammed Punjab Chief Minister Captain Amarinder Singh. The SAD president said that Punjab CM does not stand on his words.

"Captain Amarinder Singh is a selfish person," he said. "He was the Chief Minister from 2002 to 2007. He has been the same. He did not bring any development even then as well," he added.

"That's the difference between Shiromani Akali Dal and the other parties. Our party is serving with loyalty," he further said. Sukhbir Badal also said that "From 2002 to 2007, if you remember, Ponty Chadda was the liquor mafia. Then, also the Khazana was empty."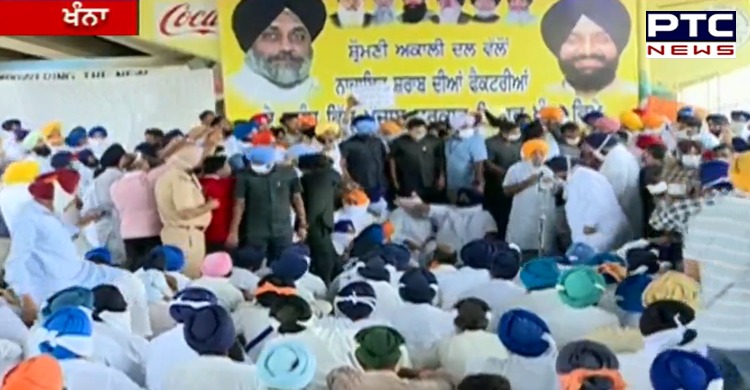 He also said that Captain Amarinder Singh has come to Punjab from Chandigarh only 7 times in around 4 years. He further said that he did not even visit Patiala which is his own constituency. The SAD president said that he got to know that Captain Amarinder visited Patiala only once when he was there to attend the last rites of his mother.
Also Read | MHA releases list of medal awardees to police personnel on Independence Day 2020
Sukhbir Singh Badal also said that "He committed sacrilege by taking Gutka Sahib in his hand." "Shiromani Akali Dal lives for Punjab and dies for Punjab," he said.
-PTC News