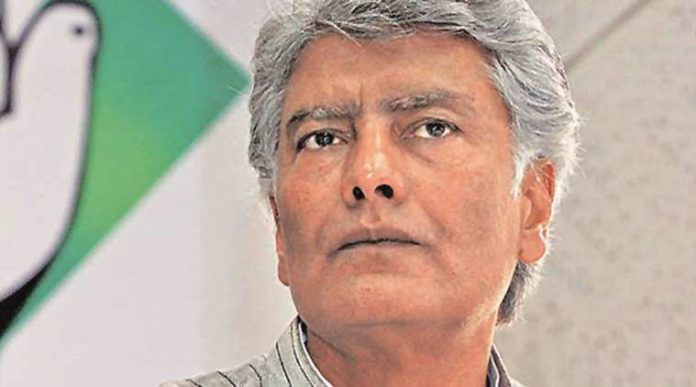 Sunil Jakhar States Was Not Sr. Badal But Sukhbir Badal Who Ordered Firing At Behbal Kalan
The Congress and Aam Aadmi Party (AAP) are working at tandem in making absurd demand of registering cases against former Punjab chief minister Parkash Singh Badal without an iota of evidence which can withstand scrutiny of law of the land.
Stating this here today, Shiromani Akali Dal (SAD) spokesman and former minister Mahesh Inder Grewal said the joint action of both the Congress and AAP is disturbing the peace and tranquility of the state and are bent upon creating disturbances.
" Ironically, Congress president Sunil Jakhar has stated that it was not Sr. Badal but Sukhbir Badal, the then deputy chief minister and SAD president, who had ordered firing at Behbal Kalan which is not mentioned in Justice Ranjit Singh panel report.
" If Jakhar was aware of who ordered firing in Behbal Kalan, what prevented him from deposing before Justice Ranjit Singh panel and submit an affidavit to this effect", asked Grewal.
Grewal said both the Congress and AAP are not focused on identifying the culprits of sacrilege but instead turned their guns against their political rival – the Akalis just to derive political mileage. They know nothing but they know how to create problems in the state, he added.
Grewal said that Congress and AAP leaders are demanding cases against Akalis on the basis of a simple comment of Justice Ranjit Singh that former chief minister Badal did discuss the situation at Kotkapura with the then Director General of Police Sumedh Singh Saini at mid-night. No case can be registered on such wild assumption and hence their demand is ludicrous.
Yet, the Congress and AAP are making the absurd demand to gain cheap popularly and temporary reprieve by deflecting public intention from Congress government's failure to honour its promises of wiping out menace of drug addiction, providing one job in one family or unemployment allowance till then, providing smart phones or waiving the entire farm loan of the famers.
Grewal said that Jakhar seems jittery after the successful massive rally of the SAD in his own citadel in Abohar as his claim that the Akalis can't enter Punjab villages stands completely exposed and vindicating that both Congress and AAP even jointly cannot stall the marc of the Akali Dal in Punjab.
Also Read: Fake promise of Jobs to Punjab Youth- Mijithia lashes out at Congress in Pol Khol rally
Lambasting Jakhar for anti- Sikh role, Grewal reminded Jakhar, whom he dubbed as sworn enemy of Punjab especially of Sikhs, that when on Nov1, 2013, the SAD–BJP government had raised issue of 1984 Sikh massacre, he being then the leader of opposition had staged a walk out along with all legislators. Evidently, Jakhar had demonstrated that he was with the perpetrators of 1984 violence against the Sikh community and not with the community.
-PTC NEWS