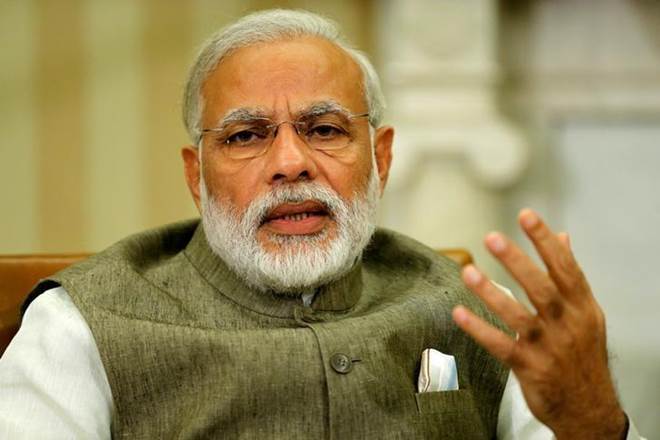 Prime Minister Narendra Modi Friday asked BJP MPs to take welfare schemes announced in the budget to the masses, saying that popularising them would lead to the party winning in the polls, according to leaders present at the meeting.
The MPs' success is linked to the party's performance, the prime minister told in the BJP parliamentary meeting, the leaders said.
Party president Amit Shah also spoke at the meeting and blamed Congress chief Rahul Gandhi's "undemocratic" politics for his party members heckling the prime minister during his speech in the Lok Sabha on Wednesday.
Modi dwelt at length on the Union budget, calling it especially positive for farmers and the poor while citing the announcement of a health insurance scheme for 10 crore families, Parliamentary Affairs Minister Ananth Kumar told reporters.
Modi asked MPs to inform the masses about various pro- people features of the budget.
The prime minister also asked the gathering to hold meetings at booths to take various welfare schemes announced in the budget to people and run intensive campaigns to propagate them, Kumar said.
Some leaders present in the meeting later said the prime minister underlined the importance of popularising these schemes for winning polls and told them that their win was linked to the party's victory.
He asked them to hold mock parliaments in various places to discuss the budget and praised Finance Minister Arun Jaitley's reply in the Lok Sabha during a discussion on it.
Modi also asked BJP leaders to organise "tiffin meetings" with party workers at local level to discuss the budget and ways to take its details to villages and 'mohallas'. The party's unit in Gujarat has often practised this, Kumar said.
The Union minister quoted Shah as saying that the work done by the government so far will be written in "golden letters" as it has taken development to the last man in the queue.
Modi also heaped praise on Shah for his maiden speech in the Rajya Sabha.
The prime minister made a reference to his rally in Tripura, which goes to the polls on February 18, and said a huge crowd came for it yesterday despite attempts by the state's Left government to prevent people from attending it.
Shah hit out at Congress chief Rahul Gandhi in his address, Kumar said.
Never before in the parliamentary history was a prime minister's reply to the president's address disrupted by the oppositon, Shah said, referring to Congress protests in the well of the Lok Sabha during Modi's over 90-minute speech on Wednesday.
Gandhi's mindset is "undemocratic" and that is why the prime minister had to speak amid disruptions, he said.
When Manmohan Singh was prime minister for over 10 years, such a situation never occurred, he said.
Shah also touched on the Congress' attack on the government over the Rafale aircraft deal, saying Jaitley in his speech had covered its various aspects.
"The broader details of the deal have been shared in Parliament. But every detail, including those about its weapons and their cost, cannot be made public," Kumar quoted Shah as saying. PTI