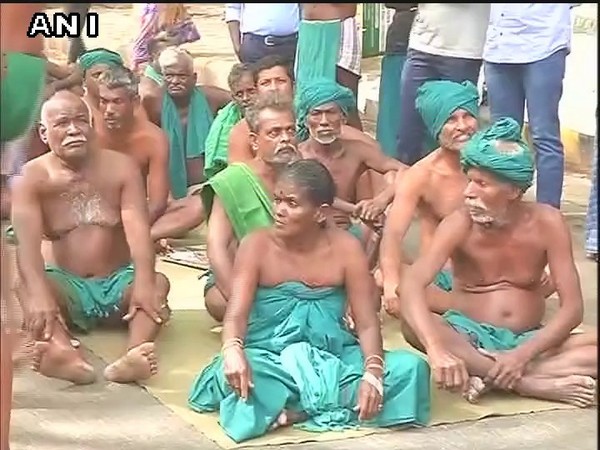 New Delhi: Tamil Nadu farmers continue to protest for drought relief in New Delhi's Jantar Mantar area.
On Saturday, three out of twenty-five farmers were affected with severe stomach pain, fever and headache but claimed that they would shave their heads clean, cut their moustache in half demands were unheard by the Centre.
TN farmer leader, Ayyakannu told ANI, "Twenty-five persons have taken part in the hunger strike for more than three weeks, out of which three persons have been seriously affected with stomach pain, headache and fever."
We would shave our heads clean, remove our half moustache if our demands are unheard by the Centre," Ayyakannu added.
He further claimed that they have been assured of a meeting with Prme Minister Narendra Modi or the Secretary on Saturday to discuss the issue.
"The Delhi Police assured us that we would meet PM Narendra Modi or the Secretary to discuss to discuss the issue of drought relief fund." Ayyakannu said.
Earlier, Congress leader Manishankar Aiyar and Dravida Munnetra Kazhagam (DMK) MP Kanimozhi joined the farmers, who have been staging a protest at the Jantar Mantar here for the past 18 days.
The farmers have been demanding that their loans from nationalised banks be forgiven, fair and just prices be set for their produce besides realistic solutions to address water scarcity in the state.
All India Anna Dravida Munnetra Kazhagham (AIADMK) member and Lok Sabha Deputy Speaker M. Thambidurai had earlier this week visited the agitating farmers at the Jantar Mantar and assured them that their grievances would be placed before Prime Minister Narendra Modi at the earliest.
— ANI