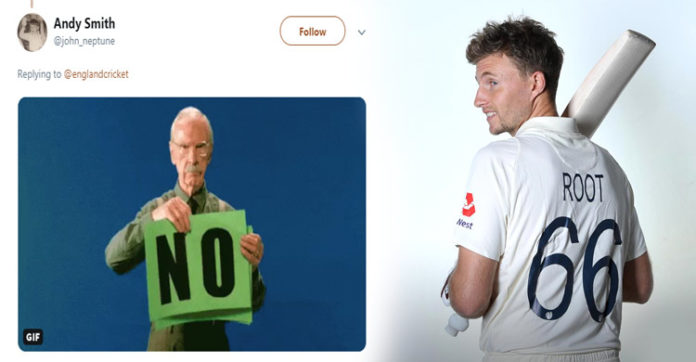 Test Cricket is all set for the major change as the names and jersey numbers will be there on the Test whites with the upcoming Ashes Series between Australia and England. Earlier, only ODI and T20I jerseys were having the name and the number on their back, but the Test matches had to wait for a long time. England Cricket shared a picture on twitter with the Test captain Joe Root posing for a still. The picture is captioned as "Names and numbers on the back of Test shirts".
Names and numbers on the back of Test shirts! ???????? pic.twitter.com/M660T2EI4Z

— England Cricket (@englandcricket) July 22, 2019
The picture is having the 66 jersey number along with Root written on English skipper's back. Meanwhile, the audience, as usual, is dicey over here but only few of them are welcoming the modernization in the Test cricket kits, while there are many who are criticizing them.
No issue with names and numbers on shirts. Tradition can go hang.

— Simon (@Bryddat) July 22, 2019
— Leo Carter ?? (@LeoCarter27) July 22, 2019
I am a traditionalist and but think this is a step in the right direction

— Matthew Bloomfield (@matthefish20022) July 22, 2019
Why not? Been doing this in county cricket for years, it's a real aid in identifying players. What's all the fuss about?

— oursylviacarol (@pachelbella) July 22, 2019
— Eric (@watchoutkeeper) July 22, 2019
— Andy Smith (@john_neptune) July 22, 2019
— James Smith (@JamesSmi5) July 22, 2019
— Len (@lenshayler) July 22, 2019
— samhargreaves94 (@samhargreaves94) July 22, 2019
— ?????? ??????? (@jordan_everitt) July 22, 2019
— Coconut (@SA_Coconut_07) July 23, 2019
— Eddie Munsta (@munsta101) July 22, 2019
— The Dirk (@The_Dirkmon) July 22, 2019
— Richard Balmforth (@RichBalmforth) July 22, 2019
The Ashes Series 2019 is set to be played with the first test match on August 1, 2019, at Edgbaston, Birmingham.
Also Read: This Netflix series highlights the black past of US President Donald Trump
England, recently, won the ICC Cricket World Cup 2019, with the luck or the performance, that's a never-ending debate, but for the meantime, the English players are the ODI champions, and now will face Australia in the home Ashes series.
-PTC News