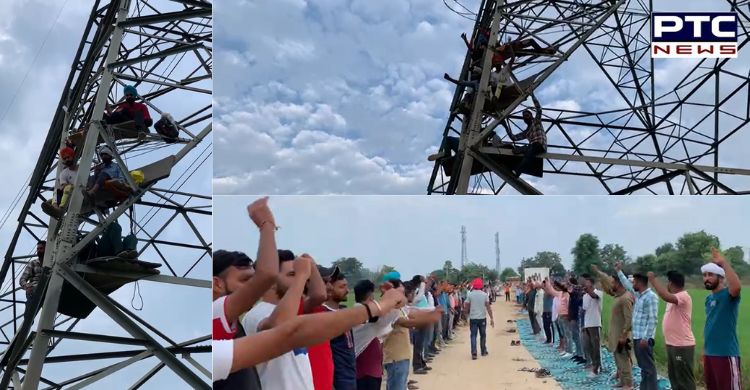 Samana, September 21: Unemployed linemen protest entered day 2 with several members of the union climbing the High voltage tower in Bhedpura village of Samana constituency. The meeting held with Chairman Baldev Singh Saran on Tuesday  was not a success, after which the demonstration of the Unemployed Apprentice Lineman Union was intensified. Union leader Pavitar Singh alleged that they voted for the Aam Aadmi Party but now Chief Minister Bhagwant Mann is not even listening to them.

Also Read| SC dismisses plea challenging validity of Haryana Sikh Gurdwara (Management) Act 2014
'Punjab State Power Corporation has released 2 thousand posts for the recruitment of Assistant Lineman for which we are expected to take exam. The demand of these apprentices' unemployed linemen is that they have done apprenticeship and be exempted from giving any sort of exam" Singh further added.
For a long time now, these unemployed people have been protesting in front of the head office of the Punjab State Power Corporation, demanding cancellation of the papers.
Unemployed linemen have been protesting in front of the PowerCom office for the past 56 days. Since no one paid heed to them, in the wee hours of September 20, the unemployed linemen climbed atop  the high voltage tower located on Patiala Sangrur Road. The protesting unemployed have threatened that if their demands are not met by the Punjab government and the management of PowerCom, then they will commit suicide by electrocuting themselves.
According to the union, they have fulfilled all the conditions of Powercom and their apprenticeship has also been completed in the month of May.
Also Read| India has potential to meet food requirement of world, says Tomar
-PTC News with inputs from Gagandeep Ahuja