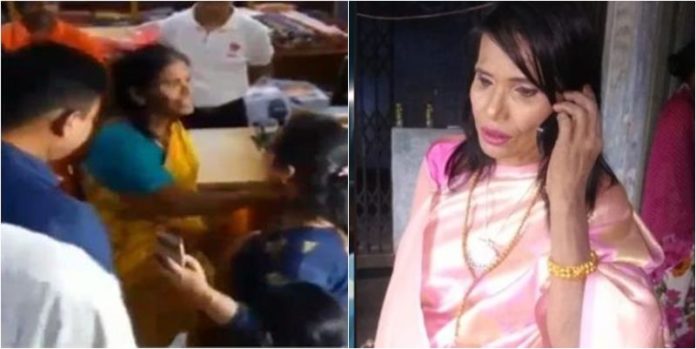 Social media plays a big role in creating overnight sensations. Cases in point are "wink girl" Priya Warrier, to "Dancing Uncle" who merrily shakes a leg to Govinda's songs. Internet has become a talent search platform of sorts. The most recent and outstanding example is Ranu Mondal. The 59-year-old singer was found singing at West Bengal's Ranaghat railway station in her mellifluous voice. The video of her singing "Ek pyaar ka nagma hai" went viral on social media.
Himesh Reshammiya saw the video and offered her a break with the song, "Teri Meri Kahani" for his upcoming film, Happy Hardy and Heer. The song received much appreciation. But her erratic behaviour also startles fans. A video of her getting defensive on being approached by a fan in a supermarket is going viral. The singer was seen withdrawing from her saying, 'ye kya hota hai,' (what does this mean)?
Here are some of the tweets on the issue:
Really sad we all twitterati supp her when her station vala video came see her behaviour after becoming celebrity
Such insult of any fan is pathetic #RanuMondal @singh_harmeet84 https://t.co/8rQHcEijau

— Nandini Idnani (@idnani_nandini) November 4, 2019
This woman once earned her meal but touching someone and begging for help. Now that she has became a star of some sort is objecting to touching by a fan of hers. That the worst type of human being. #RanuMondal https://t.co/JWLs7jcPIK

— Sameer (@Sameer_L) November 5, 2019
Don't touch me, I'm celeb now : Ranu Mondal
We made her celebrity and now see her attitude.#ranumondal #ranumandal pic.twitter.com/HOGFPYnU4s

— HasegaIndia (@indiahasegaa) November 4, 2019
A #Fan Approached #RanuMondal (Ex Railway Station Begger) For A #Selfie, But Rice Bag #Convert Shows Her #Aukat » "Don't Touch Me, I Am A #Celebrity Now"!..#Note : Citizens Made Her Celebrity, Now See Her #Attitude!..??‍♂️ pic.twitter.com/r1cToA3Tjk

— Ashwath (@3DAshwath) November 5, 2019
While this evoked much criticism from netizens, let's be fair enough to remember that she is not a seasoned celebrity trained in dealing with fans in the most diplomatic manner. After a life of poverty and struggle, she would be clueless in the fine art of diplomacy.
-PTC News