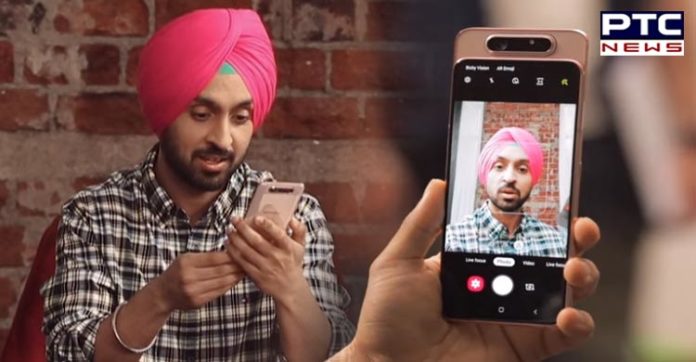 Samsung has launched Galaxy A80 smartphone in India, recently, and the phone is simply amazing and cool. You don't believe it! Okay, you may trust Punjabi Actor and Singer Diljit Dosanjh. The Punjabi sensation in collaboration with the Samsung and done the unboxing of Samsung Galaxy A80. The Galaxy A80 features might look a lie to you on written specification, but when you'll see it, you'll believe it.
Here's Diljit Dosanjh Unboxing Samsung Galaxy A80, Features, Specification:
Diljit Dosanjh while Unboxing Samsung Galaxy A80, was shocked himself as no doubt, the camera features are simply phenomenal. Galaxy A80 is having a front glass (Gorilla Glass 3), back glass (Gorilla Glass 6), aluminum frame. It has a 48-megapixel camera, as Diljit Dosanjh said and yes, he was shocked with it. Also, Diljit was shocked with the 360 camera, where the camera appeared when clicked on Selfie-mode.
Also Read: Gurdas Maan and Diljit Dosanjh to reunite
Galaxy A80 is also having steady mode, in which you may lose your control but the camera will not lose its focus. The smartphone is having under built fingerprint sensor, which means the mobile phone is a full touchscreen. Samsung Galaxy A80 price in India starts from Rs 47,990, and no doubt the phone is a pocket-DSLR. Well, in a video, Diljit Dosanjh ends the video with a group selfie and asking them for one Samsung Galaxy A80.
-PTC News