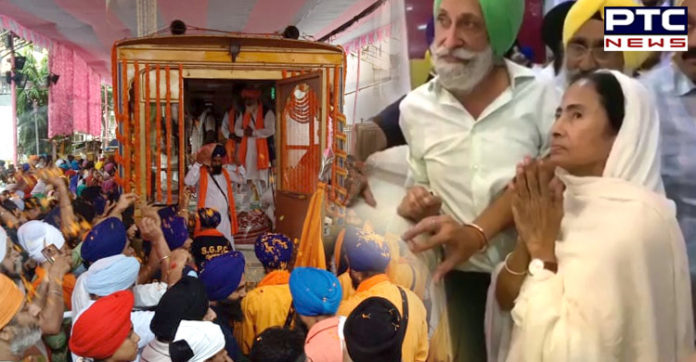 West Bengal Chief Minister Mamata Banerjee on Thursday evening welcomed the International Nagar Kirtan in Kolkata, which is coming from Sri Nankana Sahib in Pakistan ahead of the 550th Birth Anniversary of Guru Nanak Dev Ji. In a video, Mamata Banerjee has covered her head and with folded hands, extending the prayers to the Palki Sahib. This is indeed a historical moment for both India and Pakistan.
Sri Nankana Sahib in Pakistan is the birthplace of Guru Nanak Dev Ji and hence, the historical step of the International Nagar Kirtan coming to India and mark the journey across the nation is being initiated. The International Nagar Kirtan on Wednesday arrived Kolkata, where it was welcomed with the huge prosperity. Likewise, the Palki Sahib, as per the schedule, covered the whole Kolkata and rested in the same city.
Also Read: International Nagar Kirtan departs from Kanpur to Gurudwara Sri Guru Singh Sabha in Prayagraj, Uttar Pradesh
Therefore, the West Bengal Chief Minister Mamata Banerjee visited the place and met the delegations which arrived along with the Palki Sahib. Likewise, the International Nagar Kirtan was welcomed in India by Shiromani Akali Dal President Sukhbir Singh Badala, Union Minister Harsimrat Kaur Badal, Bikram Majithia and other key leaders of the SAD party.
-PTC News