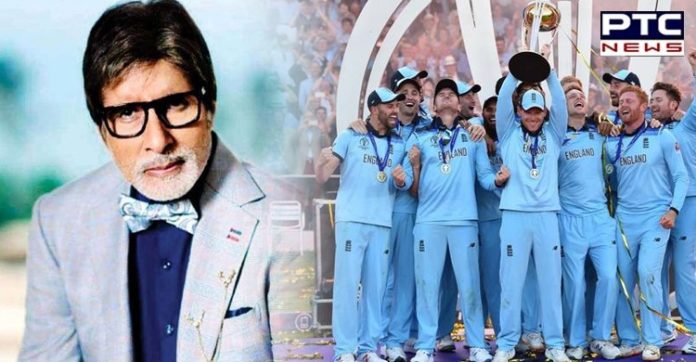 Well, ICC Cricket World Cup 2019 ended on a controversial remark after England vs New Zealand entered in a Super Over contest in finals of the World Cup. Meanwhile, Bollywood Megastar Amitabh Bachchan took a dig at the International Cricket Council (ICC) for such rules where both England and New Zealand were at the same position. ICC decided the winner of World Cup 2019 with the maximum number of boundaries hit by the team, resulting England lifting the maiden World cup trophy on Sunday at Lord's London.
T 3227 – आपके पास 2000 रूपये, मेरे पास भी 2000 रुपये,
आपके पास 2000 का एक नोट, मेरे पास 500 के 4 …
कौन ज्यादा अमीर???

ICC – जिसके पास 500 के 4 नोट वो ज्यादा रईस.. #Iccrules????
प्रणाम गुरुदेव
Ef~NS

— Amitabh Bachchan (@SrBachchan) July 15, 2019
Bollywood megastar Amitabh Bachchan took it to the twitter and mocked ICC. In a tweet, Bachchan said, "You have Rs 2,000, I have Rs 2,000. You have one note of 2,000, I have four notes of 500. Who is richer? ICC: The one who has four notes of 500 is richer." Well, this is because, ICC declared England as the winner on the basis of a maximum number of boundaries hit by the team, while both teams scored 15 runs in a Super over the final contest.
Also Read: ICC Rules: That's how people crticizing the rule used after Super Over in England vs New Zealand match
Ben Stokes was declared the Man of the Match and why not, it was his destiny that the team was able to level the New Zealand score while chasing and then in Super Over, finishing it off in a style. Meanwhile, New Zealand skipper Kane Williamson was declared the Man of the Tournament and also people are pouring love and respect for him. Not only Amitabh Bachchan, but the whole world is criticizing ICC for their rules.
-PTC News