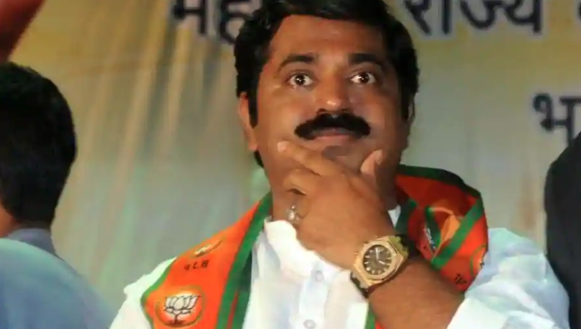 'Will kidnap girls to help you get married', says BJP leader
A Maharashtra BJP MLA in a statement offered to help youths in his constituency get married by "kidnapping girls" who had rejected them.
Ghatkopar legislator, Ram Kadam's remarks made in Marathi at a Janmashtami function he organised was caught on video, which was circulated later on social media platforms.
"Note down my cell number and give me a call to resolve any problem," he is seen telling the gathering in the video clip. "'Sir, I proposed her but she rejected me, please help.' I will help you for sure. But first come to me with your parents. If they say yes, we also like that girl, then what will I do? I will kidnap the girl concerned and hand her over to you (for marriage)."
He then shared his mobile number and assured the crowd all help.
Later, the MLA said he was quoted out of context. "People deliberately took only those lines to defame me, but didn't bother to show what I said before and after that sentence," he told news channels and clarified that he was asking youths to always obey their parents.
Jyoti Mhapsekar, founder president, Stree Multi Sangathana, a women's rights group in Mumbai, said that the remarks were derogatory and irresponsible and demanded an immediate apology.
Shiv Sena too slammed him, and sought an apology. The party Fadnavis, who heads the state's home department, what action would be taken against the MLA for making a statement that "threatens safety of girls".
Sena leader Aaditya Thackeray took to Twitter and said, "One BJP MLA has offered from a stage to help boys kidnap girls and marry them even against the will of the girls. I guess he believes marriage is like forming a govt. Ashamed and disgraced that he sits in the legislative assembly of Maharashtra- a land of culture & women liberty. Not just an outright apology from him, but I'd want to know from the Home Minister of Maharashtra what action will be taken for openly making such statements that threaten the safety of girls and offering safety to those wanting to kidnap them."
Sena spokesperson Neelam Gorhe said, "His name is Ram and his words are like Raavan. He should apologise to the women of the state."