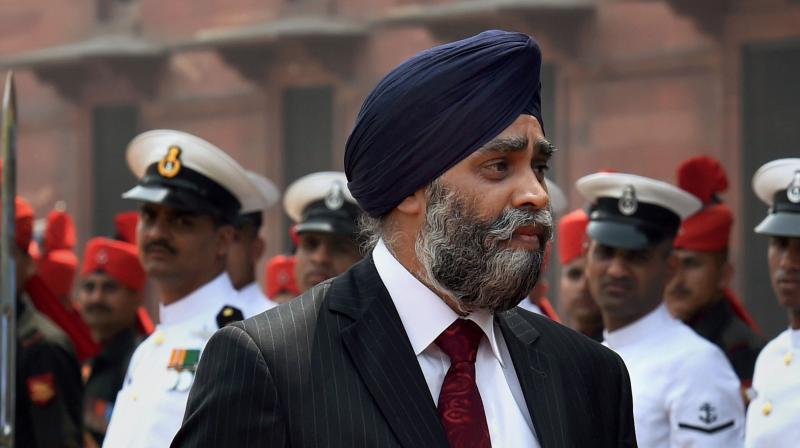 New Delhi: Canadian Defence Minister Harjit Singh Sajjan today rubbished Punjab Chief Minister Amarinder Singh's allegation that he is "pro-Khalistani" and said he would not get into any petty politics with the Congress leader.
The India-born Canadian minister also downplayed the Ontario legislative assembly recently passing a motion describing the 1984 anti-Sikh riots as "genocide" in India.
Mr Sajjan said it was a resolution by a private member and the Canadian government and the people do not at all subscribe to such a view.
"I am not going to get into any petty politics of one chief minister of a province... I am very proud of my roots and my action speak for myself," Mr Sajjan told a press conference replying to questions on the issue.
Ahead of his visit, the Punjab chief minister had said he would not meet Mr Sajjan alleging that the Canadian minister is a "Khalistani sympathiser".
"I do not have any problem if he does not want to meet me. I was born in Punjab and I am attached to it. The relationship between Canada and Punjab is based on its people.
"Nobody can take away my village, my parents. These things do not bother me," Mr Sajjan said.
Canadian Defence Minister Sajjan arrived in New Delhi yesterday on a seven-day visit and held extensive talks with his Defence Minister Arun Jaitley today.
Calling for deeper defence ties between the two sides, he said there is huge scope for joint production of military platforms by the two countries. Terming the talks "fruitful" he said, both sides resolved to work closely in the area of defence and security and broaden current level of engagement.
Asked whether time has come to call Pakistan a terrorist state, Mr Sajjan said he would not like to get involved in "regional difficulties".
"India can play an important role in overall stability in the region," he said.
The Canadian defence minister also complimented India's role in rebuilding of war-ravaged Afghanistan. Earlier, he was given a ceremonial guard of honour. He also paid homage at the Amar Jawan Jyoti.