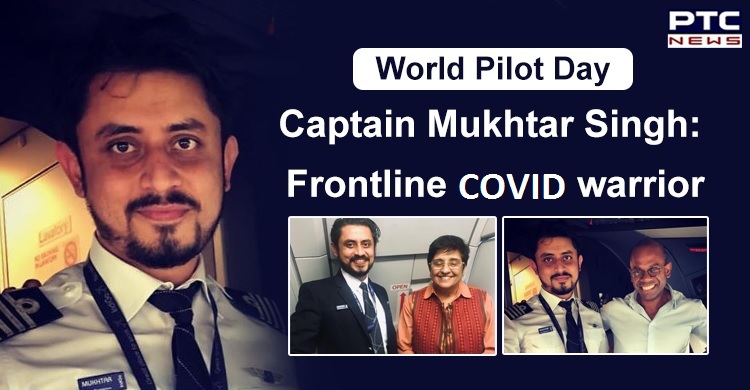 While the world is celebrating the World Pilot day on Sunday, let's meet a Chandigarh-based senior pilot Captain Mukhtar Singh, who has been flying Airbus 320 for a private airline, Indigo. He has logged several thousands of hours of commanding civilian aircraft. His role as a social-service exponent came to limelight when on the day of lockdown, he helped his fellow crew members in getting home safe and sound. Captain Mukhtar Singh is enriched with 14 years of civil aviation experience and is a founder of Enlightened Citizens (social service NGO).
March 24 was the historic date when the nationwide lockdown was enforced in India and everything came to a standstill in an order to contain the spread of coronavirus. Likewise, the Directorate General of Civil Aviation (DGCA), the governing body of Civil Aviation in India ordered a suspension of all the airlines' operations the same day midnight. A welcomed step to fight COVID-19.
The situation got tensed when Captain Mukhtar Singh got a call from his wife, Dr. Damandeep Kaur, that section 144 has been imposed in Punjab. She is a senior bureaucrat in the Government of Punjab. She was precise and quick to pass on the facts. Then began the leg work and the coordination. Assistant Manager Chandigarh International Airport Ravinder Singh Sidhu shared his concern and stress with the Captain Mukhtar Singh. The need for the hour was to get the aircraft's departing before the deadline ends and let the crew members reach their homes safely.
Captain Mukhtar Singh said that "I was little worried about the legal obligations, I might get into but once I decided to take the lead and rescue my team members I never looked back." Indigo is the largest carrier with a very complex network managed by world-class experts and the extraordinary team leaders at the top. Meanwhile, a meticulous operation of permissions, coordination, safety, professionalism began for the seamless departure of aircraft, crew members, engineers, commercial staff, group staff, loaders during the period of CrPC 144.
Captain Mukhtar Singh said that he was indebted to the local administration of Mohali, Zirakpur, Panchkula, and Chandigarh who not only coordinated so well on his request but also ensured complete safety of each and every Indigo employee on way to and back from the airport. "We met the deadline issued and all employees reached home to their loved ones," he said.
Also read | UK MP Tanmanjeet Singh Dhesi's grandmother dies due to coronavirus
His efforts got not only appreciated by his company and other members of the sky family but also recognised on the ground displaying outstanding leadership skills at unprecedented times. Captain Mukhtar said that he was in flying colours even before the in coronavirus pandemic and now also he is on his toes to help others and shower happiness from the heights of the sky.
-PTC News