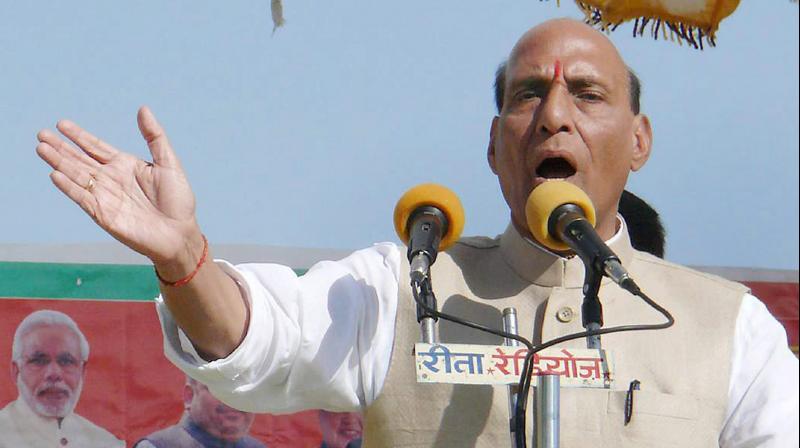 Mumbai: Union Home Minister Rajnath Singh on Tuesday said that one will see a "transformed" Kashmir in a year "no matter how the change takes place".
"You will see a transformed Kashmir in a year. No matter how the change occurs, one thing is certain, that there will be a change in Kashmir in a year's time," he asserted.
Jammu & Kashmir is ruled by the BJP-PDP alliance government headed by Chief Minister Mehbooba Mufti.
Singh attended the 'Lokmat Maharashtrian of the Year Awards' function here tonight.
Speaking during an interactive session at the event, he said former Kashmir Chief Minister Farooq Abdullah should not have supported the stone pelters.
The National Conference (NC) president had recently defended the stone-pelting youth in the Valley, saying they are fighting for the nation and for the resolution of the Kashmir issue as per the wishes of its people.
Singh said he "fully agrees" with Army chief General Bipin Rawat's remarks about dealing sternly with those trying to hinder security forces from performing their duties in Kashmir.
"Those doing such things will have to face the consequences," he said.
On Uttar Pradesh, Singh said that he credits Prime Minister Narendra Modi, BJP president Amit Shah, workers of the BJP and the NDA for the victory in the Assembly elections in the northern state.
"I thought we would get around 250 seats. We didn't expect we will get 325 seats in UP," he said.
On the issue of triple talaq, he said the government's stance in this regard is clear. "Such a provision isn't there even in Quran," he added.
On construction of Ram temple in Ayodhya, the Home minister said that the issue is sub judice. "If both the sides reach a solution, it will be alright but if not, then all will have to abide by court verdict," he added.
Singh observed that there is a need for a consensus on anti-cow slaughter legislation.
On fugitive underworld don Dawood Ibrahim, the senior BJP leader said, "there is no doubt that he is still in Karachi. In the last 10 years, India has sent a lot of dossiers on him (Dawood) to Pakistan. He is an accused in 31 cases, including the Mumbai serial blasts."
—PTI