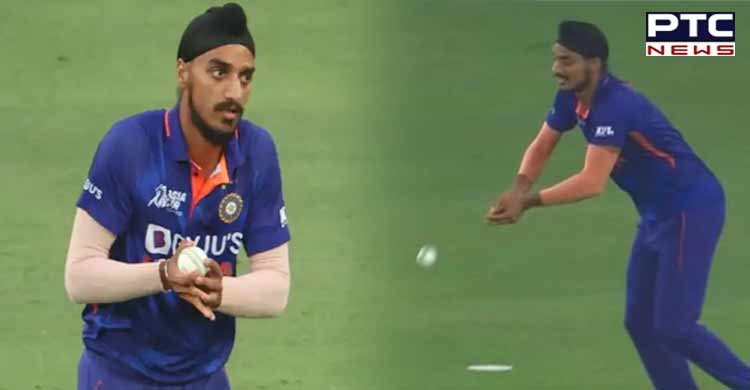 Dubai, September 5: Young pacer Arshdeep Singh has fallen victim to online trolling after India's loss in the Asia Cup tie on Sunday, clearly pointing towards Pakistan's nefarious propaganda.

He is being trolled badly on social media for dropping a crucial catch in the 18th over of the match between India and Pakistan during Asia Cup 2022. However, from his seniors, to even political leaders cutting across party lines, all have come out in support of young pacer Arshdeep Singh.
Also Read | Punjab implements UGC's 7th pay panel report; okays recruitment of guest faculty
Agitated fans went after young pacer Arshdeep for the dropped catch, describing him the "villain" of the match.
— Guess Karo (@KuchNahiUkhada) September 5, 2022
Me and my boys searching for Arshdeep pic.twitter.com/5mgH0DpJfK

— Jaadu (@_jaadu_) September 4, 2022
People looking at Arshdeep's smiling face after that drop catch pic.twitter.com/kZE9vB8NU4

— yaarivanu_unknownu (@memesmaadonu) September 4, 2022
However, Arshdeep has got ample support from his seniors, including Virat kohli, and even cutting across party lines. 
Viral Kohli
"Even when I played my first game against Pakistan in Champions Trophy, I played a bad shot and got out. Anyone can make mistakes under pressure. It is natural to feel bad. The team environment is great right now, credit for this goes to management and captain. So one must accept his mistake, address it and look forward to being in that pressure situation once again," said Virat Kohli in a post-match press conference on Sunday. Virat Kohli is extremely satisfied and happy with his team's aggressive approach in T20Is and it is not shaken by wickets lost in middle overs.
#WATCH via ANI Multimedia: 'Anyone can make mistakes under pressure': Virat Kohli backs Arshdeep Singh after loss to Pakistanhttps://t.co/NjO1fsXMlE

— ANI (@ANI) September 5, 2022
Harbhajan Singh
"Stop criticising young @arshdeepsinghh. No one drop the catch purposely..we are proud of our ?? boys .. Pakistan played better.. shame on such people who r putting our own guys down by saying cheap things on this platform bout arsh and team.. Arsh is GOLD," he tweeted.
Irfan Pathaan
Arshdeep is a strong character. Stay that way boy. @arshdeepsinghh

— Irfan Pathan (@IrfanPathan) September 4, 2022
Manjinder Singh Sirsa
अर्शदीप सिंह के ख़िलाफ़ पाकिस्तान और ISI द्वारा ट्विटर पर चलाए जा खालिस्तानी ट्रेंड की मैं कड़ी निंदा करता हूँ। हर भारतीय #arshdeepsingh के साथ खड़ा है और भारत में सिखों को अलग-थलग करने की पाकिस्तान की नापाक़ कोशिश कभी क़ामयाब नहीं होगी@PTI_News @republic @ANI @News18India pic.twitter.com/nwfeEuBhLr

— Manjinder Singh Sirsa (@mssirsa) September 5, 2022
Gurmeet Singh Meet Hayer 
Victory or defeat is given in game. @arshdeepsinghh is upcoming star who carved out niche in short span. Performed excellent against Pakistan. Regressive psyche to troll him on drop of just a catch. Arshdeep is future of Nation. Inspiration for youth. Hate has no place in sports.

— Gurmeet Singh Meet Hayer (@meet_hayer) September 5, 2022
Captain Amarinder Singh
"Quite unfortunate that
Arshdeep Singh
is being mocked over a dropped catch.
Such things happen in sports, particularly under such tremendous pressure. We must support and encourage our sports heroes. Arshdeep, don't get disheartened. You have a long and glorious career ahead," said Punjab's former CM in a Facebook post.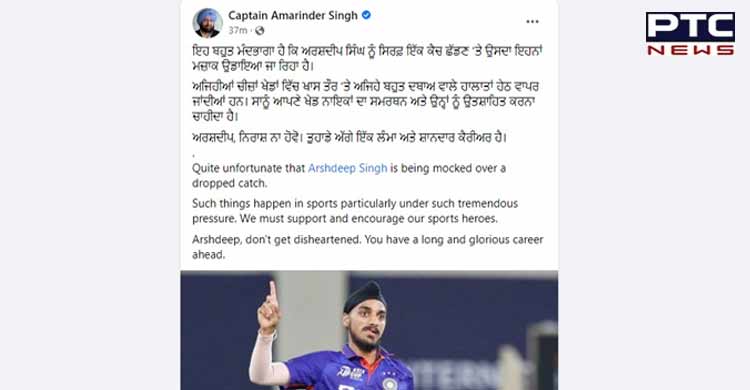 Captain Amarinder Singh's post for Arshdeep