Baby girl born onboard an IndiGo flight: In a rare but surprising event, a baby girl was born onboard an IndiGo flight from Bangalore to Jaipur on Wednesday. The baby was delivered with the help of a crew assisted by a doctor onboard.

According to the information, the Jaipur airport was informed immediately to arrange for a doctor and an ambulance. The Indigo said in a statement that both the baby and mother were stable.
Also Read | Chaos on IndiGo flight after passenger claims of being Covid-19 positive
Meanwhile, Dr Subahana Nazir, who helped deliver the baby, was welcomed into the arrival hall while a Thank You card was handed over by the IndiGo's Jaipur staff.

The picture was earlier shared by Indigo but later deleted on the request by the family.
Also Read | Indigo flight makes emergency landing in Karachi after passenger dies on-board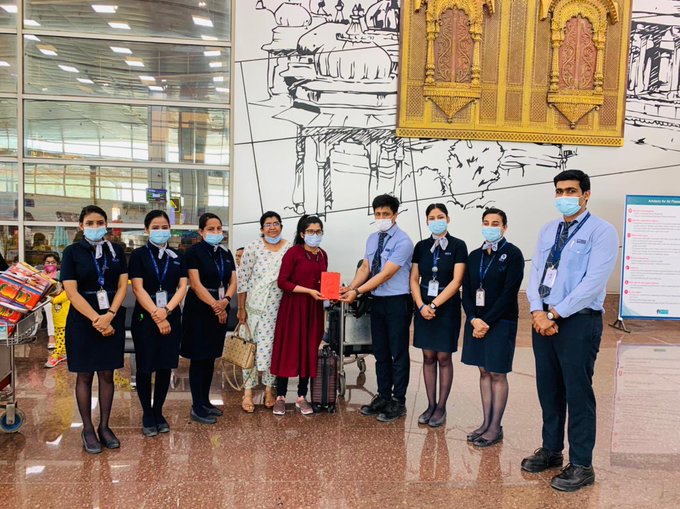 Welcoming the girl born onboard an IndiGo flight, netizens started pouring in tweets for her. A Twitter user wrote: "Baby girl ?? born onboard IndiGo flight 6E 469 from Bengaluru to Jaipur! Baby delivered with the help of IndiGo crew and Dr Subahana Nazir who was travelling on the flight."
"Dr Nazir was welcomed at Jaipur airport with a Thank You card later by IndiGo staff," she added.
Last year in October, a similar incident took place when a woman passenger had delivered a baby boy on board an IndiGo flight traveling from Delhi to Bengaluru.
Click here to follow PTC News on Twitter.
-PTC News