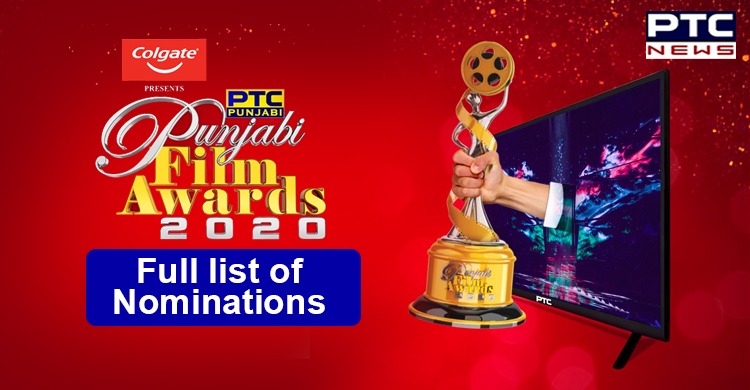 PTC Network is hosting the first ever online film awards to honour and appreciate the artists of Punjabi film industry. This award ceremony is also the first such event ever hosted digitally.
While PTC Punjabi Film Awards 2020 was earlier put on hold in the wake of coronavirus pandemic, the organizers have decided to host the show online.
Meanwhile, PTC Network will be combining the cutting edge technology with the grit to host the awards show online and honour the artists for their work in Punjabi film industry.
Here is the list of the nominations of the awards 2020:
Best Editing:
Baljit Singh Deo (Ardaas Karaan)

Bharat S Raawat (Sikander 2)

Bunty Nagi (Guddiyan Patole)

Manish More (High End Yaariyaan)

Rohit Dhiman (Chandigarh Amritsar Chandigarh)

Sadik Ali Shaikh (Laiye Je Yaarian )
Best Background Score:
Amar Mohile (Blackia)

Amar Mohile (Sikander 2)

Gurmeet Singh & Sandeep Saxena (Muklawa)

Jatinder Shah (Ardaas Karaan)

Troy Arif (Dil Diyan Gallan)
Best Dialogues:
Dheeraj Rattan & Ambardeep Singh (Laiye Je Yaarian)

Gurpreet Bhullar (Sikander 2)

Inderpal Singh (Blackia)

Raju Verma (Muklawa)

Rana Ranbir (Ardaas Karaan)
Best Screenplay
Dheeraj Rattan (Sikander 2)

Gurjeet Singh (High End Yaariyaan)

Inderpal Singh (DSP Dev)

Jagdeep Sidhu (Guddiyan Patole)

Parmish Verma & Uday Pratap Singh (Dil Diyan Gallan)

Rupinder Inderjit (Surkhi Bindi)

Rakesh Dhawan & Kulwant Singh & Parmailjot Singh (Chal Mera Putt)
Best Story
Dheeraj Kumar & Karan Sandhu (Jaddi Sardar)

Gippy Grewal & Rana Ranbir (Ardaas Karaan)

Inderpal Singh (Blackia)

Jass Grewal (Rabb Da Radio 2)

Rupinder Inderjit (Surkhi Bindi)

Upinder Waraich & Jagjit Saini (Muklawa)
Best Cinematography:
Akashdeep Pandey (Sikander 2)

Baljit Singh Deo (Manje Bistre 2)

Manoj Soni (Chandigarh Amritsar Chandigarh)

Ravi Kumar Sana (Jhalle)

Sandeep Patil (Dil Diyan Gallan)

Vineet Malhotra (Shadaa)
Best Debut - Female:
Aarushi Sharma (Kaka Ji – Son Of Royal Sardar)

Mehreen Pirzada(DSP Dev)

Sara Sharmaa (Jind Jaan)

Sharan Kaur (Munda Faridkotia)
Best Debut - Male:
Aman Singh Deep (Ishqaa)

Guri (Sikander 2)

Gurnam Bhullar (Guddiyan Patole)

Jobanpreet Singh (Saak)

Karan Mehta (Gidarh Singhi)

Rajvir Jawanda (Jind Jaan)
Best Action:
Ganesh (Blackia)

K Ganesh KUMAR & Arun Yadav (Sikander 2)

Satwant Bal (Jaddi Sardar)

Vishal Bhargav & Bal (Ishqaa)

Vishal Bhargav & Singh Is King (Mitran Nu Shaunk Hathyaran Da)
Best Performance in Negative Role:
Manav Vij (DSP Dev)

Sagar S Sharma (Mitran Nu Shaunk Hathyaran Da)

Victor John (Sikander 2)

Yaad Grewal (Jaddi Sardar)
Best Performance in Comic Role:
Deep Joshi (Jugni Yaaran Di)

Jaswinder Bhalla (Band Vaaje)

Karamjit Anmol (Manje Bistre 2)

Rajpal Yadav (Chandigarh Amritsar Chandigarh)

Ravinder Grewal (Gidarh Singhi)
Best Music Director:
Desi Crew (Channan)

Gurmeet Singh (Wang Da Naap)

Jaidev Kumar (Utth Farida)

Jatinder Shah (Tere Rang Niyare)

Nick Dhammu (Shadaa Title Song)

The Boss (Gabru Nu Tersengi)

V Rakx Music (Guddiyan Patole)

Best Playback Singer (Female)

Afsana Khan (Kuch Bol Ve)

Harshdeep Kaur (Chan Ve)

Mannat Noor (Gulabi Paani)

Nimrat Khaira (Channan)

Sunidhi Chauhan (Neend Naa Aave)
Best Playback Singer (Male):
Ammy Virk (Wang Da Naap)

Amrinder Gill (Aaban De Deson)

B Praak (Rabba Ve)

Diljit Dosanjh (Mehfil)

Gippy Grewal (Ambarsar De Papad)

Gurnam Bhullar (Parian)

Jass Manak (Rabb Wangu)

Nachhatar Gill (Tere Rang Niyare)

Sippy Gill (Suhe Bulla Waliye)
Popular Song of the Year: 
Blackia (Blackia)

Gabru Nu Tersengi (Kaake Da Viyah)

Guddiyan Naal Patole (Guddiyan Patole)

Jhalle (Jhalle)

Late Ho Gayi (Lukan Michi)

Tommy (Shadaa)

Wadde Jigre (DSP Dev)

Wang Da Naap (Muklawa)
Best Supporting Actress: 
Anita Devgan (Jaddi Sardar)

Ekta BP Singh (Blackia)

Mannat Singh (Band Vaaje)

Rupinder Rupi (Doorbeen)

Satwant Kaur (Mitran Nu Shaunk Hathyaran Da)

Upasana Singh (Jind Jaan)
Best Supporting Actor: 
Guggu Gill (Jaddi Sardar)

Hardeep Gill (Shadaa)

Hobby Dhaliwal (Doorbeen)

Pavan Raj Malhotra (Jhalle)

Sanjeev Attri (Amaanat)

Sardar Sohi (Mindo Taseeldarni)

Yograj Singh (Teri Meri Jodi)

Gurshabad (Chal Mera Putt)
Best Debut Director: 
Amarjit Singh (Kala Shah Kala)

Ishan Chopra (Doorbeen)

Janjot Singh (Chal Mera Putt)

Parmish Verma & Uday Pratap Singh (Dil Diyan Gallan)

Sharan Art (Rabb Da Radio 2)

Sukh Sanghera (Laiye Je Yaarian)

Santosh Thite & Deepak Thaper (Munda Hi Chahida)
Best Comedy Film: 
Ardab Mutiyaran (Manav Shah)

Band Vaaje (Smeep Kang)

Chal Mera Putt (Janjot Singh)

Gidarh Singhi (Vipin Parashar)

High End Yaariyaan (Pankaj Batra)

Kala Shah Kala(Amarjit Singh)

Shadaa (Jagdeep Sidhu)
PTC Promising Star of the Year: 
Dev Kharoud (Blackia & DSP Dev)

Jordan Sandhu (Gidarh Singhi & Kaake Da Viyah)

Kartar Cheema (Sikander 2)

Nav Bajwa (Ishqaa & Kitty Party)

Ninja (Ardab Mutiyaran & High End Yaariyaan)

Parmish Verma (Dil Diyan Gallan & Singham)
Filmy Yaar of the Year:
Guggu Gill & Hobby Dhaliwal (Jaddi Sardar)

Guggu Gill & Yograj Singh (Lukan Michi)

Jassie Gill / Ninja / Ranjit Bawa (High End Yaariyaan)

Preet Baath / Deep Joshi (Mitran Nu Shaunk Hathyaran Da)

Kumar Ajay, Veer Vashisht (Mitran Nu Shaunk Hathyaran Da)

Sardar Sohi / Malkeet Rauni & (Ardaas Karaan)

Rana Jung Bahadur (Ardaas Karaan)

Yuraj Hans / Gagan Kokri &(Yaara Ve)

Raghveer Boli (Yaara Ve)

Iftikhar Thakur, Nasir Chinyoti & Akram Udas (Chal Mera Putt)
Best Director:
Gippy Grewal (Ardaas Karaan)

Jagdeep Sidhu (Shadaa)

Manav Shah (Sikander 2)

Mandeep Benipal (DSP Dev)

Pankaj Batra (High End Yaariyaan)

Simerjit Singh (Muklawa)

Vijay Kumar Arora (Guddiyan Patole)
Best Actress:
Kavita Kaushik (Mindo Taseeldarni)

Kulraj Randhawa (Naukar Vahuti Da)

Roopi Gill (Laiye Je Yaarian)

Sargun Mehta (Surkhi Bindi)

Sonam Bajwa (Ardab Mutiyaran)

Wamiqa Gabbi (Dil Diyan Gallan)

Neeru Bajwa (Shadaa)
Best Actor:
Ammy Virk (Muklawa)

Amrinder Gill (Laiye Je Yaarian)

Binnu Dhillon (Jhalle)

Dev Kharoud (Blackia)

Diljit Dosanjh (Shadaa)

Gippy Grewal (Chandigarh Amritsar Chandigarh)

Gurpreet Ghuggi (Ardaas Karaan)

Parmish Verma (Dil Diyan Gallan)

Tarsem Jassar (Rabb Da Radio 2)
Best Film: 
Ardaas Karaan (Gippy Grewal)

Blackia (Sukhminder Dhanjal)

Dil Diyan Gallan (Parmish Verma And Uday Pratap Singh)

Laiye Je Yaarian (Sukh Sanghera)

Shadaa (Jagdeep Sidhu)

Surkhi Bindi (Jagdeep Sidhu)

Muklawa (Simerjit Singh)
-PTC News