Criminal lawyer APS Deol, who resigned as the Advocate-General of Punjab on November 1, has launched an attack on Punjab Congress president Navjot Singh Sidhu.

In a press statement issued on Saturday, APS Deol accused Navjot Singh Sidhu of obstructing the functioning of the government and the office of the Advocate General.
Also Read | In resignation letter to Sonia Gandhi, Captain Amarinder calls Navjot Singh Sidhu 'Pakistani acolyte'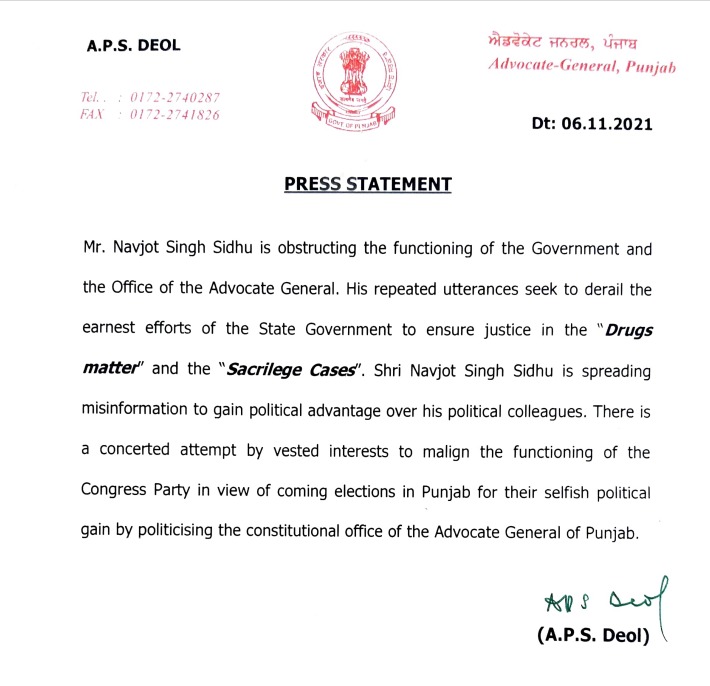 He alleged that Sidhu was spreading misinformation to gain political advantage over his colleagues.
APS Deol said, "There is a concerted attempt by vested interests to malign the functioning of the Congress in view of the forthcoming Assembly elections in Punjab next year."
Notably, soon after Deol's appointment as the Punjab Advocate-General, Punjab Congress chief Navjot Singh Sidhu had resigned from his post, criticising his appointment and also that of Iqbal Preet Singh Sahota as the officiating Punjab DGP.
Also Read | Petrol, diesel prices in India reduced significantly after cut in excise duty
Sidhu had been adamant on his (Deol) replacement since and conveyed the same to the Congress top leadership.
Earlier this year, Deol had secured the release of former director general of police (DGP) Sumedh Singh Saini arrested by the Vigilance Bureau in a 2020 criminal case.
In the 2015 sacrilege cases, APS Deol had appeared for Sumedh Saini before the Punjab and Haryana High Court.
Sidhu, who had stepped down from his post on September 28, had said he would return to his duties as the state unit chief the day new AG was appointed and a new panel for the appointment of the DGP was received from the UPSC. However, on November 5, Sidhu took back his resignation.
-PTC News with inputs from Aman Bhardwaj