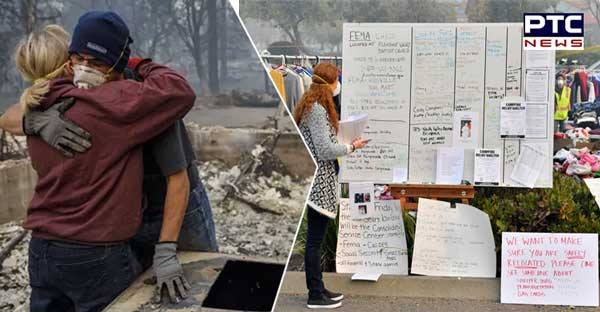 California: Campfire death toll rises to 71 with more than 1000 missing
The missing toll of the devastating wildfire in northern California soared from 631 to 1,011 on Saturday. The remains of eight others victims were found by rescuers. According to Butte County Sheriff Kory Honea, the investigators are reviewing the emergency calls after the campfire erupted in northern California on November 8.
Also Read: Death toll nears 40 in northern Japan earthquake
According to the media reports, three people have died in southern California which engulfed major parts of Malibu. During this, houses of many celebrities have been destroyed. Donald Trump will be visiting the western state on Saturday to meet the victims of the California Wildfire.
Also Read: 12 Killed in California bar shooting, gunman dead
Many of the victims and the missing persons were elderly people. According to the media sources they were unable to escape the blaze. And some people were trapped in their cars as they were trying to escape. Investigators collected the DNA samples from the families to identify the victims. The hundreds of sniffer dogs and rescue people are working to locate more victims.
-PTC NEWS