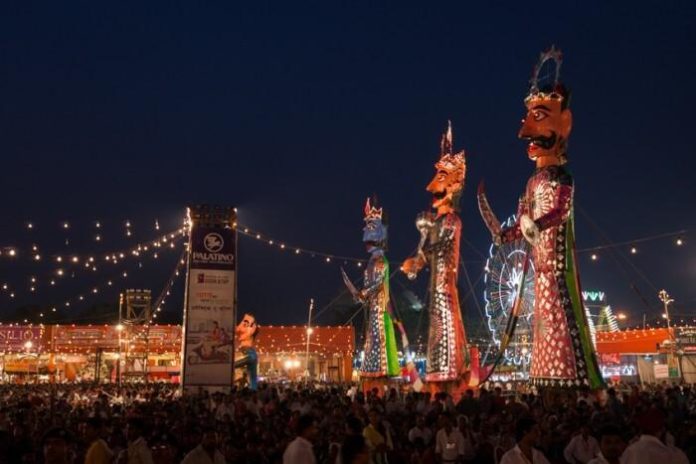 Dussehra celebrates the Hindu god Rama's victory over Ravana and the triumph of good over evil. It is marked on the 10th day of the bright half (Shukla Paksha) of the month of Ashvin (Ashwayuja).
Also Read | Passenger creates panic on Delhi-Goa flight, yells 'there are terrorists'
PM Modi amongst other ministers took twitter to wish the people of the country.

PM Narendra Modi tweeted, "सभी देशवासियों को विजयादशमी की ढेर सारी शुभकामनाएं। बुराई पर अच्छाई और असत्य पर सत्य की जीत का यह महापर्व हर किसी के जीवन में नई प्रेरणा लेकर आए।"
सभी देशवासियों को विजयादशमी की ढेर सारी शुभकामनाएं। बुराई पर अच्छाई और असत्य पर सत्य की जीत का यह महापर्व हर किसी के जीवन में नई प्रेरणा लेकर आए।

— Narendra Modi (@narendramodi) October 25, 2020
Shiromani Akali Dal President, Sukhbir Singh Badal also greeted everyone, he wrote, "#Dussehra is an occasion to rejoice the victory of good over evil. A way to remember that there is always light after darkness. May this Dussehra bring prosperity, happiness and success in your life! #HappyDussehra"
#Dussehra is an occasion to rejoice the victory of good over evil. A way to remember that there is always light after darkness.
May this Dussehra bring prosperity, happiness and success in your life!#HappyDussehra pic.twitter.com/rlIoQVs4m6

— Sukhbir Singh Badal (@officeofssbadal) October 25, 2020
Union Home Minister, Amit Shah also took twitter to share his thoughts on Vijaydashmi. He tweeted, "विजयादशमी का महापर्व मनुष्य को अधर्म, अहंकार और असत्य का परित्याग कर धर्म, विवेक और सत्य के मार्ग पर चलने की प्रेरणा व शिक्षा देने वाला पर्व है। प्रभु श्री राम हमें बुराइयों पर विजय प्राप्त करने की शक्ति दें। 'विजयादशमी' की हार्दिक शुभकामनाएँ जय श्री राम!"
विजयादशमी का महापर्व मनुष्य को अधर्म, अहंकार और असत्य का परित्याग कर धर्म, विवेक और सत्य के मार्ग पर चलने की प्रेरणा व शिक्षा देने वाला पर्व है।

प्रभु श्री राम हमें बुराइयों पर विजय प्राप्त करने की शक्ति दें।

'विजयादशमी' की हार्दिक शुभकामनाएँ

जय श्री राम! pic.twitter.com/DNkbPDocWg

— Amit Shah (@AmitShah) October 25, 2020
The President of India, RamNath Kovind also tweeted, "Greetings and good wishes to fellow citizens on Dussehra. This festival symbolises the triumph of good over evil. May this festival of joy and happiness protect us from the evil effects of the ongoing pandemic and bring prosperity and affluence to the people of the country."
Greetings and good wishes to fellow citizens on Dussehra. This festival symbolises the triumph of good over evil. May this festival of joy and happiness protect us from the evil effects of the ongoing pandemic and bring prosperity and affluence to the people of the country.

— President of India (@rashtrapatibhvn) October 25, 2020
Harsimrat Kaur Badal also tweeted, "With the effigy of Ravana, burn all your worries also this #Dussehra. Stay happy & make others happy. On this auspicious day, as we celebrate valour & courage, the triumph of good over evil, I wish you all success & happiness in everything you do. #HappyDussehra "
With the effigy of Ravana, burn all your worries also this #Dussehra. Stay happy & make others happy.
On this auspicious day, as we celebrate valour & courage, the triumph of good over evil, I wish you all success & happiness in everything you do.#HappyDussehra pic.twitter.com/dTgALR7s7Z

— Harsimrat Kaur Badal (@HarsimratBadal_) October 25, 2020
Member of India National Congress, Rahul Gandhi also wished the nation. He tweeted, "विजय अंततः सत्य की ही होती है। आप सभी को विजयदशमी की शुभकामनाएँ। #HappyDussehra"
विजय अंततः सत्य की ही होती है।

आप सभी को विजयदशमी की शुभकामनाएँ।#HappyDussehra

— Rahul Gandhi (@RahulGandhi) October 25, 2020
-PTC News