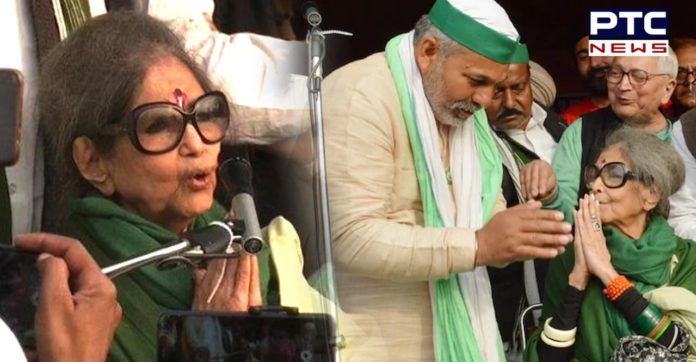 The farmers' agitation for repeal of three agriculture laws has entered its 81st day today. Amidst the cold and dense fog, farmers are stranded on all the borders of Delhi. Many farmers have lost their lives so far due to farmers agitation.

Many known names are coming out in support of farmers. On Saturday, Mahatma Gandhi's granddaughter Tara Gandhi Bhattacharjee visited Ghazipur border to extend support to the farmers' protest against the three farm laws.
Also Read | MP Tanmanjeet S Dhesi tweets concern over arrest of Nodeep Kaur
The 84-year-old Bhattacharjee is the chairperson of National Gandhi Museum. She encouraged farmers to remain peaceful in their protest and urged the government to "take care" of the farming community.
She was joined by Gandhi Smarak Nidhi chairman Ramchandra Rahi, All-India Sarv Seva Sangha managing trustee Ashok Saran, Gandhi Smarak Nidhi director Sanjay Singha and National Gandhi Museum director A Annamalai.
According to the statement issued by the Bharatiya Kisan Union (BKU), Bhattacharjee said, "We have not come here as part of any political programme. We have come here today for the farmers, who have fed all of us our whole life,"
"We are because of you all. In the benefit of farmers lies the benefit of the country and all of us," she was quoted telling the protesters.
She recalled that the first fight for independence from the British rule in 1857 had also started from Meerut in western Uttar Pradesh.
Bhattacharjee said she has come to the protest site to pray for the farmers, stated the statement.
Also Read | No ban on old mandis by govt in new farm laws: PM Modi
"I want that whatever happens, farmers should be benefitted by it. Nobody is unaware of the hard work that the farmers do and it is not to be said again that in the benefit of farmers lies the benefit of our country, and all of us," she said.
The Centre has refused to take back the laws. A lot of farmers have lost their lives due to the protest.
Farmers have been protesting at Delhi borders; Tikri border, Singhu border and Ghazipur. Despite 11 rounds of meeting between the protesting farmers and the Centre, no conclusion has come out so far. No date has been fixed for the next meeting.
The farmers have been protesting against the Farmers (Empowerment and Protection) Agreement on Price Assurance and Farm Services Act, 2020, Farmers' Produce Trade and Commerce (Promotion and Facilitation) Act, 2020, and Essential Commodities (Amendment) Act, 2020.
-PTC News