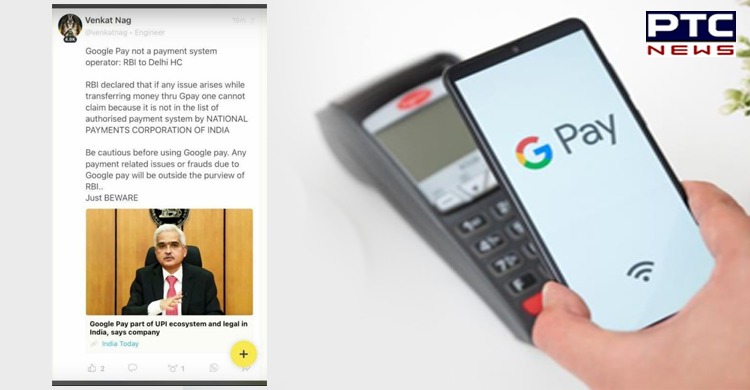 A shocking claim urging people to be more careful while using Google Pay is going viral on social media. It stated that in a statement to the Delhi High Court, the Reserve Bank of India said that it does not recognize G-Pay as a payment system operator.

The claim added that an individual cannot claim the money transferred through G-Pay in case of any trouble as Google Pay has been listed as authorized payment system by the National Payments Corporation of India (NPCI).
Also Read | Petrol and Diesel prices in India: Do you know how much are you paying as tax?
The claim was being circulated on social media platforms. PTC News also received several requests to verify the claim as the viral post under the name of India Today was going viral.
Also Read | Petrol prices in India hiked again, diesel rates down for first time in 3 months
Upon looking at the list of third-party UPI apps recognized by the NPCI, Google Pay was found at the fifth position. Therefore, the above said claims are all FAKE as Google Pay is recognized as a third-party app that enables UPI payments.
It may be noted that this claim was also viral in 2020 after which Google Pay India had issued a statement regarding this.
A Google spokesperson had stated that G-Pay operates completely within the law and it works as a technology service provider to partner banks. It further stated that UPI apps in India were categorised as "third party apps", and does not required to be "payment systems operators."
NPCI had also clarified that Google Pay was a third-party app. Hence, the viral post is FAKE and hence, do not spread such misinformation.
-PTC News