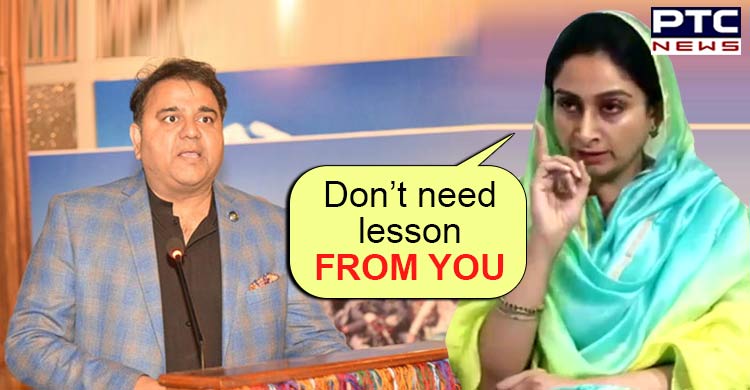 Union Cabinet Minister of Food Processing in the Government of India and member of parliament from Bathinda, Harsimrat Kaur Badal has slammed Pakistan Minister Fawad Hussain, who was provoking the Punjabis in the Indian Army. Pakistan Minister of Information and Broadcasting, Fawad Hussain, wrote on Twitter, "I appeal to all Punjabis in Indian Army to refuse to be part of injustice/Zulm and deny duty in Kashmir." Fawad Hussain was appealing to the those Punjabis who are the part of Indian Army to deny for the duty in Kashmir and to not be the part of injustice.
https://twitter.com/HarsimratBadal_/status/1161328363614556160?s=20
Meanwhile, Harsimrat Kaur Badal replied to Fawad Hussain and said, "Pakistan minister's desperate tweet asking Punjabi Army Jawans to refuse duty in Kashmir exposes their frustration and nefarious designs. Punjabis are patriots for whom NO sacrifice is too great when it comes to their nation. Fawad Hussain, we don't need lessons in line of duty from you." Pakistan has already downgraded all the bilateral talks with India following the resolution revoking Article 370 for Jammu and Kashmir has been passed in Lok Sabha and Rajya Sabha.
Also Read: I don't have any friend in Pakistan, but Sri Guru Nanak Dev Ji gave me an opportunity for darshan: Harsimrat Badal
Also, there were no exchange of sweets on the border on Eid-Al Adha, and the Independence Day 2019 of Pakistan. Pakistan has already suspended the train, trade, etc. Likewise, Pakistan has banned the screening of Indian Films in Pakistan. Pakistan Prime Minister Imran Khan said in a Parliament (there), that it is an ideology of RSS, behind the decision of revoking Article 370. Harsimrat Kaur Badal has slammed Pakistan Minister of Information and Broadcasting Fawad Hussain in a befitting reply.
-PTC News