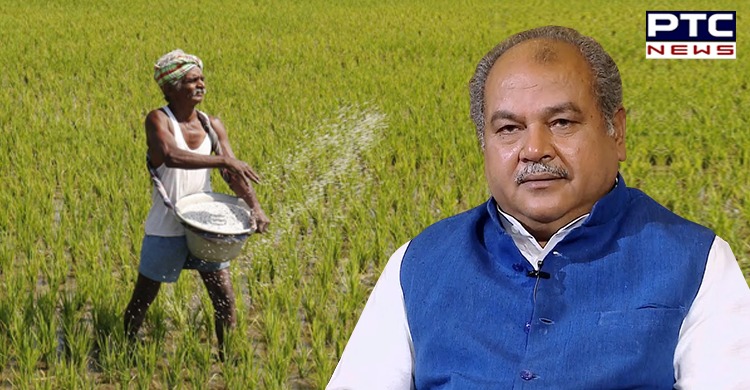 Today, in a press conference, the Union agriculture minister Narendra Singh Tomar said that an important scheme was launched by Modi government on January 13, 2016 to make the farmers prosperous.
Also Read | Farmers hold PC, refuse to comply with SC's 4-member committee

He said that the crop insurance scheme implemented by PM Modi is a great protection for farmers. Every year 5 and a half crore farmers are joining the scheme.
The Agriculture Minister said that the agriculture sector has been an important part even during the Covid-19 period. The scheme has been secured under the leadership of Prime Minister Narendra Modi and integrated with technology.
"I would like to take this opportunity to appeal to all the farmers that if you have not yet got crop insurance, get it today so that we can be protected from any natural calamity." he said.
Tomar further said that the 'Crop Insurance' app has been developed so that everyone can know about the Pradhan Mantri Fasal Bima Yojana.
Also Read | Tractors, hard-shell trailers modified for Republic Day tractor march
The Government of India, in collaboration with the states, is also using the satellite so that the farmers can be paid early and their crops can be assessed sooner.
Today, under the PM Crop Insurance Scheme, the compensation of farmers has reached the accounts of more than 90,000 farmers and its been 5 years.

The farmers have got the benefit of this. The PM Crop Insurance Scheme has proved to be a boon for the welfare of the farmers. I urge the farmers to insure their crops so that they can be protected, he said.
The decision on the farm laws has been taken over by Supreme Court which has put a stay on farm laws for a while and has formed a 4-member committee to take a call on the farm laws.
The 4-member committee formed is also being called a pro-farm laws committee.
Union agriculture minister Narendra Singh Tomar had said on Monday that the decision of the Supreme Court would be acceptable wholeheartedly whereas the farmers have refused to agree with their decision, whatever it turns out to be.
"The matter is sub-judice. I can't say anything on it. The Supreme Court will hear the matter today (Tuesday) also. Whatever judgement comes, the government is committed to following the directions of the Supreme Court," Tomar had said.