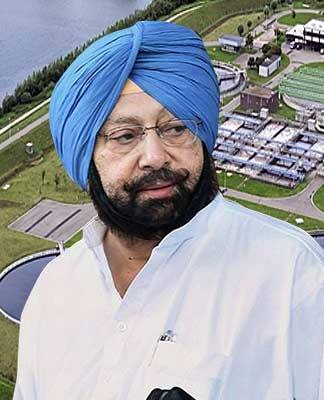 Punjab CM seeks Israel's cooperation in recycling of sewerage water in major cities
Punjab Chief Minister Captain Amarinder Singh on Wednesday sought Israel's cooperation in enabling recycling of sewerage water in five major cities of the state, with the aim of checking pollution and generating water for irrigation purposes.
Also Read: State Commission to appoint new DGP, Cabinet approves amendments in Punjab Police Act
The Chief Minister held extensive talks in Jerusalem with Israel's Minister of Energy and Water Resources, Dr. Yuval Steinitz, on the issue of water management to boost water conservation in Punjab.
The Chief Minister was impressed with the fact that 95% of sewerage water was being recycled for agriculture in Israel and said Punjab would like to do the same in urban areas.
Captain Amarinder Singh apprised the Israeli minister of the problems being faced by Punjab on the water front as a result of its depleting water table caused by melting glaciers. While Punjab was power surplus, water resources remained a challenge for the state, which was trying to get out of the paddy-wheat cycle to save this precious resource, he said.
Dr. Steinitz said Israel would be happy to extend all possible support in this regard, keeping in view the close historical, cultural and business ties it has with India. The minister underlined the need for proper water management through assessment of the total requirement and availability. He pointed out that Israel was having its fifth year of drought but was managing its water needs through various measures, such as double desalination, to meet 80% of its domestic water need. Regulating water distribution was the crux of water management, said the minister, stressing the need for educating people in this regard.
Also Read: Intelligence on high alert, Union Govt ask Punjab to be wary of pro-Khalistan movement
The Chief Minister invited the minister to visit Punjab to further strengthen the cooperation between the two sides.
Captain Amarinder Singh later visited various sites in the Old City of Jerusalem, including the Indian Hospice – an over 800-year-old memorial that is revered by Indian Muslims as a shrine in the memory of Hazrat Farid ud-Din Ganj Shakar, or Baba Farid as he is popularly known. The hospice was gifted by the locals to the Sufi saint, who hailed from Punjab's Faridkot, and is believed to have stayed in Jerusalem for some time. The Chief Minister was accompanied by the Indian Ambassador to Israel, Pavan Kapoor, as well as his Media Advisor Raveen Thukral and Principal Secretary Tejveer Singh, besides Additional Chief Secretary Vini Mahajan, Additional Secretary Viswajeet Khanna and DIG Intelligence Dinkar Gupta.
Earlier, as part of his efforts to woo Israeli investment and business, the Chief Minister on Tuesday evening extended his government's full support to Israeli companies ready to invest in the state across sectors.
Addressing a seminar on 'Investment Opportunities in Punjab', organized in Tel Aviv by the Embassy of India in collaboration with the Israel-Asia Chamber of Commerce, the Chief Minister said that besides offering cheap power and single window clearances, the state has excellent communication and transport linkages to boost ease of business.
With four airports, Punjab is the gateway to the Middle East, the Chief Minister told a galaxy of top-level business honchos at the seminar, at which Invest Punjab made a detailed presentation to showcase the strengths that make the state a favoured business destination for global players. Excellent universities provided educated, skilled and hardworking manpower for setting up and promoting businesses, he further pointed out.
"We will be there to receive you with open arms when you come to Punjab, and will help you with your business endeavours," said the Chief Minister, expressing the hope that the event will be instrumental in further strengthening Punjab's relations with Israel.
In response to a question, the Chief Minister said his government was focusing in a big way on incentivizing solar power projects. Captain Amarinder Singh said his government was looking at installing solar motor pumps in the fields and had already made solar systems compulsory for new buildings.
Underlining Punjab's role in building India's food security over the past 40 years, the Chief Minister said the depleting water table was now threatening to destroy the state's agricultural prowess. He stressed the need to diversify crop cultivation in the state to get it out of the wheat-paddy cycle and said Israel's drip irrigation technology was a laudable initiative that Punjab could adopt to its advantage.
The Chief Minister aggressively pushed for increased industrialization in Punjab, which had lost out on this front due to the partitions that had taken place in 1947, and then in 1966. With their entrepreneurial spirit and strength, Punjabis could turn around the fortunes of the state with investment support from Israel and other nations, he added.
Captain Amarinder Singh recalled his visit to Israel in 1971, when he had been impressed by the spirit of its people, and hoped the same spirit would be manifest in increased cooperation and collaboration with Punjab in the coming months.
Also Read: PB CM Calls for collective efforts to fight drugs, terms it a strategic conspiracy from across international border
Among the Israeli business leaders who joined the seminar were CEO Solav Solar Energy, Dror Green, Chairman, Israel-India Chamber of Commerce, Anat Bernstein-Reich, CEO WeBuy, Emil Guberman, CEO Biofeed, Nimrod Israely, CEO AMS Technologies, Gil Meirovich, Manager Ministry of Economy, Israel Government, Sagi Itcher, and Director NaanDanJain, Amnon Ofen.
-PTC NEWS