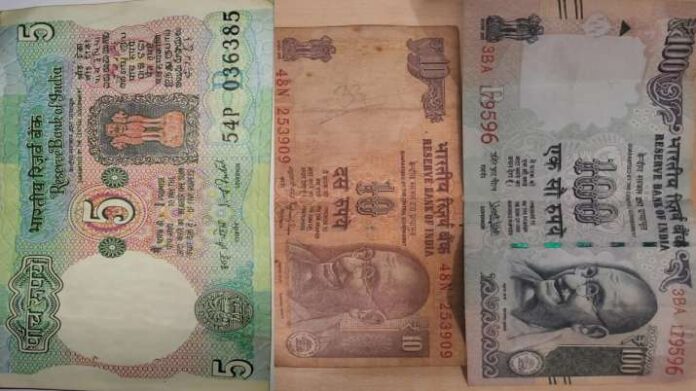 Amid speculations and reports doing round that the circulation of old currency notes of Rs 100, 10 and 5 would stop permanently by March-April, the Reserve Bank of India (RBI) has finally spoken about it.
Also Read | Delhi Police: Will take decision after receiving written route of parade

The RBI said that the Central bank has no such plans and termed the report as 'fake'. An RBI spokesperson has thrashed such false reports and has clarified that they are not planning any such thing. However, there is no official confirmation from RBI as of now on the matter.
According to the reports, Assistant General Manager (AGM) of the Reserve Bank of India (RBI) B Mahesh spoke at the District Level Security Committee (DLSC) and District Level Currency Management Committee (DLMC) meeting, and had said that the old currency notes of Rs 100, Rs 10 and Rs 5 will eventually go out of circulation as RBI plans to withdraw them by March-April.
New currency notes of 100 rupees were released by the Reserve Bank of India in 2019. The RBI had issued new Rs 100 notes in lavender color with the motif of 'Rani ki vav' – a stepwell located on the banks of Saraswati river in Gujarat's Patan.
"All Rs 100 banknotes issued earlier will also continue to be legal tender," the central bank said while announcing the issue of the new Rs 100 notes. The RBI introduced a Rs 200 note in addition to the currency note in denomination of Rs 2,000 after the demonetization on November 8, 2016.
Speaking of the Rs 10 coin, even after 15 years of its introduction, the coin has not been accepted by traders and businessmen, which has become a problem for banks and RBI.
Also Read | BCCI introduces new fitness test for team India cricketers
Several rumors surfaced around the coin that created doubt among the people about its validity. Traders and shopkeepers still refuse to take Rs 10 coin that do not have a rupee symbol on them.

However, for now the RBI spokesperson said there is no such move being taken by RBI.
-PTC News