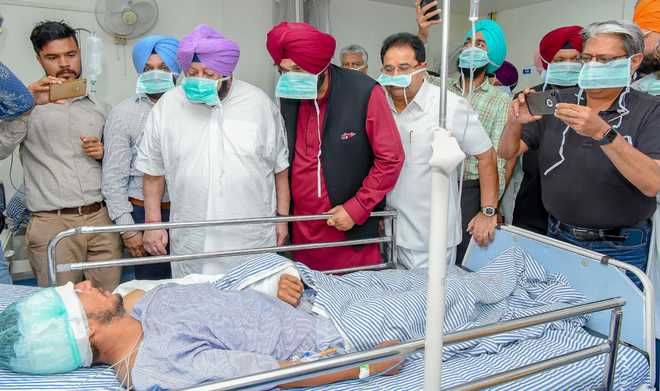 Amritsar Accident: Punjab CM visits nearly 16 hours after tragedy
Punjab Chief Minister Amarinder Singh arrived in Amritsar on Saturday, nearly 16 hours after at least 60 people were crushed to death by a train.
Chief Minister was accompanied by Punjab Congress president and Gurdaspur MP Sunil Jakhar.
Captain Amarinder, who arrived on a special flight from Delhi ordered magisterial inquiry into the accident and has asked report to be submitted in four weeks.
He immediately held a meeting with senior officers of the district administrations, cabinet ministers and Congress legislators.
He also ordered immediate release of Rs 3 crore to DC Amritsar for payment of ex-gratia to the deceased.
In just 10-15 seconds it left behind a heap of crushed and dismembered bodies.
The Punjab government has declared state mourning on Saturday.
48 people have been injured in Amritsar train accident which occurred at 7.10 pm on Saturday. Seven of those injured are critical, said reports.
Seven of the nearly 70 people injured in the train accident near Amritsar are in critical condition.
"Among the injured, the conditions of seven persons continue to remain critical," an official said. According to the officials, many of the deceased were yet to be identified.
In wake of the Amritsar train tragedy, eight trains passing through the route have been cancelled and five diverted. Besides this, 10 trains were short-terminated (ended before their scheduled destination) and five were short-originated (started from a station ahead of the scheduled origin).