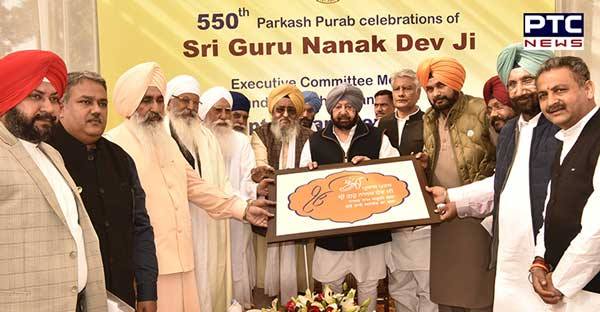 Cm Appeals To All Political Parties, Religious & Social Org To Participate In Year-Long Celebrations Of 550th Parkash Purb
Punjab Chief Minister Captain Amarinder Singh on Monday appealed to all the political parties, religious and social organizations to set aside petty considerations to celebrate the 550th Parkash Purb of Sri Guru Nanak Dev Ji in a befitting manner.
Captain Amarinder urged the Sant Samaj to come forward in prevailing upon the leaders of these parties and organisations to ensure their participation for commemoration of this historic event.
Also Read: 
The Chief Minister also solicited cooperation from all the organizations in the development of the historical town of Sultanpur Lodhi associated with the first Sikh Guru as Holy City. He urged the Sant Samaj to complement the state government's efforts to spruce up basic infrastructural facilities and civic amenities to make Sultanpur Lodhi a smart city.
The life and philosophy of Sri Guru Nanak Dev Ji was the common heritage of Punjab and therefore all the political/religious parties/groups/individuals should sink their political differences and come together to disseminate the message of the first Guru, he added.
Addressing the representatives of the Sant Samaj during the Executive Committee meeting of 550th Prakash Purab celebrations of Sri Guru Nanak Dev Ji here at Punjab Bhawan, Captain Amarinder Singh stressed that politics should be kept out of pious and religious occasions. Welcoming the inputs provided by various Sant Samaj heads to celebrate this momentous event with religious fervor and gaiety, Captain Amarinder sought their wholehearted support and cooperation to make this event memorable.
The Chief Minister said "we are all blessed to have got the opportunity to celebrate this historic and sacred occasion during our lifetime." His government had made a sincere effort to ensure that this mega event is observed in a befitting manner, he said, urging all organisations to cut across party lines to celebrate the momentous occasion in the spirit it deserves.
Captain Amarinder Singh said that all out efforts were being made to elicit maximum participation of people from all walks of life to disseminate the ideology and teachings of Guru ji across the globe. The Chief Minister stated that the life and philosophy of Sri Guru Nanak Dev ji were the common heritage of Punjab and therefore all the political/religious parties/groups/individuals should sink their difference and come together on a common platform to celebrate the occasion in unison.
The Chief Minister further implored the Sant Samaj to coordinate with the executive committee on regular basis with their suggestions to fine-tune the programmes so as to propagate Guru ji's rich legacy of universal brotherhood, amity, love, compassion and harmony in the world.
On the occasion, the Chief Minister also released the logo of the 550th birth anniversary of Sri Guru Nanak Dev Ji. The logo has been designed by Tulsi Devi, a post graduate student of Government Arts College, Chandigarh and was honoured by the Chief Minister with a cash award of Rs. 21,000.
Responding to the concern shown by the members of Sant Samaj, Captain Amarinder promised to bring all the culprits involved in desecration of Sri Guru Granth Sahib and other holy scriptures to book. He said that SIT formed by the state government was on the job and all perpetrators of such heinous crime would be punished as per the law of the land. He assured the Sant Samaj that ongoing investigations in these cases would be brought to their logical conclusion.
Reiterating his personal commitment to wipe out the menace of drug abuse, the Chief Minister said that the crackdown on the drug mafia had yielded positive results with huge caches of narcotics and psychotropic substances being recovered by Punjab Police. Anybody trying to play with the future of our youth would be dealt with severely, he warned. Punjab was being used as a transit route for drug smuggling by hostile neighbour across the border to weaken the state's youth in order to create instability, which would never by tolerated, he added.
Cooperation Minister Sukhjinder Singh Randhawa called upon all the religious and social organizations to commemorate this mega event in an unprecedented manner to demonstrate the spirit of bonhomie.
Earlier, Baba Sarabjot Singh Bedi emphasized the need to formulate a sub-committee of Sant Samaj to coordinate with the Executive Committee of state government for the commemoration of this historic event in a meaningful and result-oriented manner. He also requested the Chief Minister to make optimum use of this grand occasion to disseminate the life and teachings of Sri Guru Nanak Dev Ji in every nook and corner of the world.
Also ReaD: Punjab CM directs depts. to focus on revival of existing businesses in new industrial policy
Sant Baba Sukhdev Singh Rumi suggested the state government to involve all other religious sects so as to reflect Guru Ji's basic ideology of oneness of God and universal brotherhood.
Noted environmentalist Baba Balbir Singh Seechewal urged the state government to clean the holy Kali Bein at Sultanpur Lodhi by releasing 550 cusecs of water into the Kali Bein so as to ensure regular flow of water as with the current release of 300 cusecs of water was not sufficient to reach Sultanpur Lodhi. He asked the government to take up cleaning of Kali Bein on war footing besides making all the STPs functional in view of 550th Parkash Utsav of Sri Guru Nanak Dev Ji next year.
Baba Lakhbir Singh Ratwara Sahib said that the government should focus on the core issues of health, environment & education on this special occasion as Sri Guru Nanak Dev Ji dedicated his entire life in propagating their significance on human life.
Baba Gian Dev Sing of Nirmal Sect assured the Chief Minister that their followers would leave no stone unturned in making the celebrations a grand success.
Baba Balbir Singh, head of Budha Dal, pledged all support and cooperation to the government in its endeavour to make this commemoration of 550th celebrations of Sri Guru Nanak Dev Ji in a befitting manner.
Sant Sewa Singh Rampur Khera said that the Mission of Guru Nanak Dev ji should be spread in every part of the country so as to apprise people about the philosophy of Guru Ji on mankind.
Also Read: CM directs FM to release Rs 200 Cr for 550th Birth Celebrations of Guru Nanak Dev Ji
Prominent amongst others present in the meeting were Cabinet Minister Tript Rajinder Singh Bajwa, Navjot Singh Sidhu, Vijay Inder Singla, PPCC president and MP Gurdaspur Sunil Jakhar, Media Advisor to CM Raveen Thukral, Advisor to CM BIS Chahal, MLA Sultanpur Lodhi Navtej Singh Cheema, MLA Ferozpur Parminder Singh Pinki, Chief Principal Secretary to CM Suresh Kumar, Chief Secretary Karan Avtar Singh, Special Principal Secretary to CM Gurkirat Kirpal Singh, DGP Intelligence Dinkar Gupta, ACS Housing and Industries Vini Mahajan, ACS Higher Education S K Sandhu, Principal Secretary Finance Anirudh Tewari, Principal Secretary Tourism Vikas Pratap Singh, Principal Secretary Local Government A Venu Prasad, Principal Secretary Rural Development & Panchayats Anurag Verma, Principal Secretary Food & Supplies KAP Sinha, ACS Forest Roshan Sunkaria, Prinicipal Secretary Jalis Kirpa Shankar Saroj, and Director Information and Public Relations Anandita Mitra.
-PTC NEWS