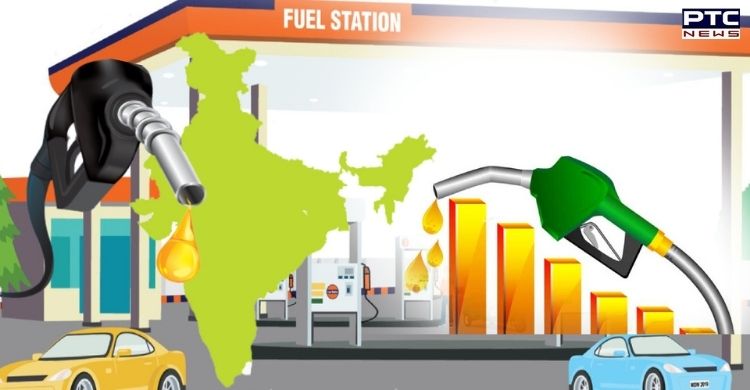 Petrol and diesel prices in India continue to reach new highs as they were hiked for fifth time in July despite a fall in crude oil prices in international markets.

The Petrol price was hiked in Delhi by 35 paise to an all-time high of Rs 100.56 per litre. Likewise, diesel price has been hiked by 0.09 paise from Rs 89.53 to Rs 89.62. In financial capital Mumbai, the petrol and diesel prices stand at Rs 106.59 per litre and Rs 97.18 per litre, respectively.
Also Read | Union Cabinet Expansion 2021: Here's official list of Council Of Ministers; Who's got what?
Meanwhile, the Brent crude oil futures fell down by 43 cents, or 0.6 percent, at $73 a barrel by 7:22 am on Thursday. Similarly, the US West Texas Intermediate futures were declined by 51 cents, or 0.7 percent, at $71.69 a barrel.
Also Read | Several Union Ministers including Ramesh Pokhriyal Nishank resign ahead of Cabinet expansion
The state-run oil marketing companies including Bharat Petroleum, Indian Oil, and Hindustan Petroleum align the rates of domestic fuel.
Petrol and diesel prices in India:
Delhi: Petrol – ₹100.56 per litre; diesel – ₹89.62 per litre
Mumbai: Petrol – ₹106.59 per litre; diesel – ₹97.18 per litre
Kolkata: Petrol – ₹100.62 per litre; diesel – ₹92.65 per litre
Chennai: Petrol – ₹101.37 per litre; diesel – ₹94.15 per litre
Bengaluru: Petrol – ₹103.94 per litre; diesel – ₹94.99 per litre
Hyderabad: Petrol – ₹104.50 per litre; diesel – ₹97.68 per litre
Thiruvananthapuram: Petrol – ₹102.54 per litre; diesel – ₹96.20 per litre
Jaipur: Petrol – ₹107.37 per litre; diesel – ₹98.74 per litre
Patna: Petrol – ₹102.79 per litre; diesel – ₹95.14 per litre
Chandigarh: Petrol – ₹96.70 per litre; diesel – ₹89.25 per litre
Bhopal: Petrol – ₹108.88 per litre; diesel – ₹98.40 per litre
Bhubaneswar: Petrol – ₹101.37 per litre; diesel – ₹97.67 per litre
Srinagar: Petrol – ₹103.44 per litre; diesel – ₹93.24 per litre
-PTC News