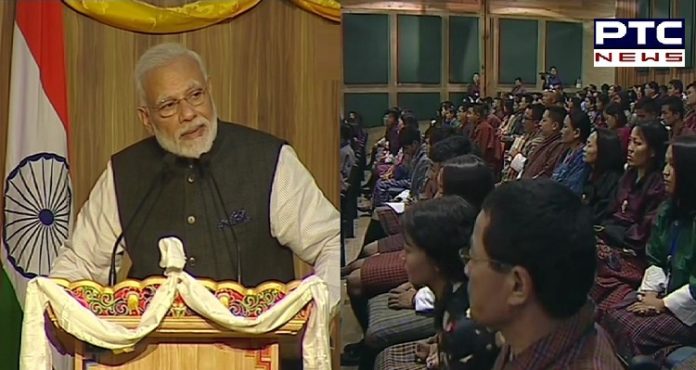 PM Narendra Modi Speech in Bhutan: Prime Minister Modi on Sunday addressed the students at the Royal University of Bhutan, in Thimpu. He said, "Anyone visiting Bhutan is struck as much by its natural beauty as by the warmth and simplicity of its people", reported news agency ANI, quoting PM Modi. He also said, "It is natural that the people of Bhutan and India experience great attachment to each other, as we are close not just due to our geography. Our history, culture and spiritual traditions have created unique and deep bonds between our peoples and nations".
PM Narendra Modi during a speech in Bhutan said, "India is home to the world's largest healthcare scheme, Ayushman Bharat, which offers health assurance to 500 million Indians. India has among the cheapest data connectivity in the world, which is, directly and indirectly, empowering millions". Adding on PM Modi said, "Much of what I wrote in my book 'Exam Warriors' is influenced by teachings of Lord Buddha, especially the importance of positivity, overcoming fear and living in oneness, be it with the present moment or with mother nature".
Also Read: Golden Girl Hima Das promises PM Narendra Modi and Sachin Tendulkar, to do this
Also, Prime Minister Narendra Modi said, "Bhutan has understood the spirit of harmony, togetherness, and compassion. This very spirit radiated from the adorable children who lined the streets to welcome me yesterday. I will always remember their smiles". "It is a matter of great happiness that young Bhutanese scientists will travel to India to work on designing and launching Bhutan's own small satellite. I hope that someday soon, many of you will be scientists, engineers, and innovators", added PM Modi.
-PTC News