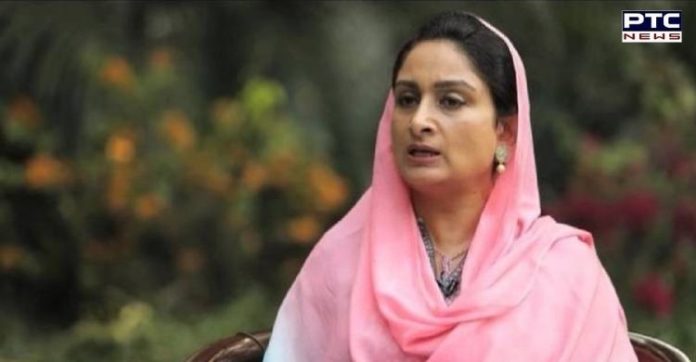 President Ram Nath Kovind accepted Shiromani Akali Dal (SAD) leader Harsimrat Kaur Badal's resignation from the Union Council of Ministers with immediate effect.

The President also directed Union Minister Narendra Singh Tomar to take charge of the Ministry of Food Processing Industries, the ministry held by Badal, in addition to his existing portfolios.
Also Read | Tata wins the bid to construct a new Parliament building, Rs. 861.90 Cr to be spent
President of India Ram Nath Kovind, as advised by the Prime Minister, has accepted the resignation of Harsimrat Kaur Badal (in file pic) from the Union Council of Ministers, with immediate effect: Rashtrapati Bhavan. pic.twitter.com/t8UQZ1jJJY

— ANI (@ANI) September 18, 2020
#Breaking ਰਾਸ਼ਟਰਪਤੀ ਰਾਮਨਾਥ ਕੋਵਿੰਦ ਨੇ ਹਰਸਿਮਰਤ ਕੌਰ ਬਾਦਲ ਦਾ ਅਸਤੀਫਾ ਕੀਤਾ ਮਨਜ਼ੂਰPresident of India, as advised by PM Modi ,…

PTC News यांनी वर पोस्ट केले गुरुवार, १७ सप्टेंबर, २०२०
Harsimrat Kaur Badal had resigned from the Union Cabinet in protest against the anti-farmer ordinances. She took twitter to announce this. She had said that she proudly stands with the farmers as their daughter and sister.
Also Read | In order to save funds, schools asked to take BSNL buildings on rent
She had tweeted, "I have resigned from Union Cabinet in protest against anti-farmer ordinances and legislation. Proud to stand with farmers as their daughter & sister."
I have resigned from Union Cabinet in protest against anti-farmer ordinances and legislation. Proud to stand with farmers as their daughter & sister.

— Harsimrat Kaur Badal (@HarsimratBadal_) September 17, 2020