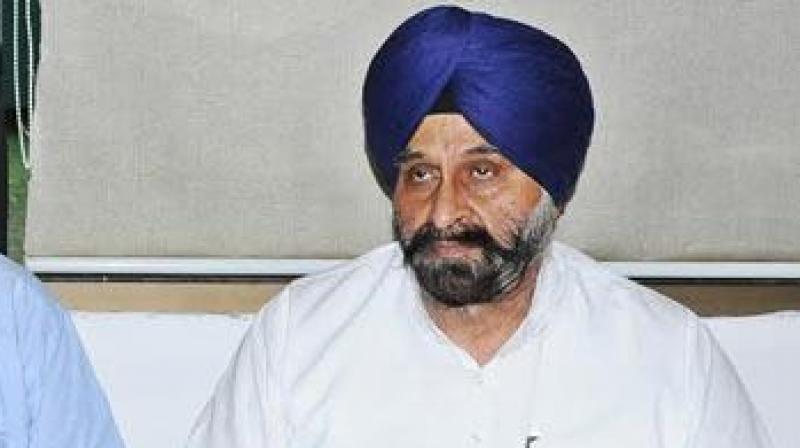 Chandigarh: The Shiromani Akali Dal (SAD) on Friday condemned the Congress party for moving and passing a resolution aimed at challenging the authority of Sri Akal Takth Sahib knowing full well that it had no business to interfere in the religious affairs of the Sikh community.
In a statement here, former minister Maheshinder Singh Grewal said the resolution seeking women be allowed to perform 'kirtan' at Sri Harmandir Sahib was tantamount to a direct interference in Sikh religious affairs. He said the issue was one of 'maryada' which was decided by the Shiromani Gurdwara Parbandhak Committee (SGPC) and adjudicated upon by Sri Akal Takth Sahib. "It is a known fact that the honour and dignity given to women by the Sikh Gurus is unparalleled in history. However the 'maryada' in the Darbar Sahib which has been going on since the time of the Gurus, cannot be interfered with on the basis of sex".
Grewal said the Congress government was indulging in dirty politics aimed at sowing seeds of discontent in Sikhs with the purpose of inciting them on a confrontation course with their religious institutions. "This serves the Congress party's old game plan to weaken Sikh institutions as well as the SAD". He said the evil designs of the party were apparent from the resolution which failed to admit that there were such issues in other communities also and that it had been left to the communities to take a final call on them.
The Akali leader also asked few religious leaders who were supporting the Congress party to tell whether they supported the resolution moved by the Congress in the Vidhan Sabha. He said the SAD on its part would fight any attempt by the Congress party to interfere in the religious affairs of the Sikh community, particularly the 'rehat maryada' in force at Sri Harmandar Sahib.
https://www.ptcnews.tv/kartarpur-corridor-to-open-for-pilgrims-today-pm-narendra-modi-to-inaugurate/
Grewal also asked the Congress government to concentrate on governance rather than hatching conspiracies aimed at deflecting attention from its own failures. "A government is measured by its performance. The Congress government is credited with zero performance on all parameters. This is the reason why it is resorting to such moves in desperation and frustration to take away attention from the fact that it has betrayed each and every section of society be be farmers, farm labourers, youth, Dalits, traders and industrialists and even the common man", Grewal added.
-PTC News