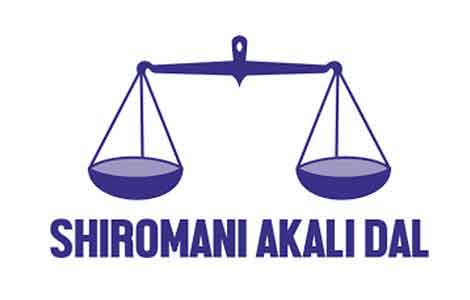 SAD asks Manpreet Badal and Jojo to apologize for degrading dalits
The Shiromani Akali Dal (SAD) today asked finance minister Manpreet Badal and his brother in law Jaijeet 'Jojo' Johal to immediately apologize for degrading the dalit community failing which community members would 'gherao' them to effect this apology.
In a statement here, senior dalit leaders Gulzar Singh Ranika and Pawan Kumar Teenu said it was shocking that Jojo had during a dharna organized at the instance of finance minister Manpreet Badal made casteist and derogatory remarks about the dalit community on camera.
"Jojo made fun of the skin colour of dalits and even pointed out to a leader and said he should give a statement to the media on behalf of the dalit community because his colour was the darkest. All other Congress leaders, who were sitting in the supposed dharna on the directions of the finance minister, also joined Jojo in making coarse jokes about the dalit community. A case under the SC & ST Prevention of Atrocities Act should be registered against Jojo and all other Congress leaders who disparaged the dalit community on this occasion".
The SAD leaders said what was even more inhuman was that Jojo had not apologized for this heinous behavior despite the fact that his entire conversation as well as the insulting comments made by other Congress leaders were recorded on camera. The leaders also asked Jojo to explain his comments. "He should tell us what dalits look like and why he thinks dalits look different from other human beings".
Both Mr Ranike and Mr Teenu said the studied silence of Manpreet Badal on this issue spoke volumes about the feudal mindset of his family. "Our Gurus' have taught us to treat mankind as one. Shri Guru Gobind Singh ji did away with caste and creed by creating the Khalsa. The same Guru also bestowed the blessing 'Rangreta Guru ke Beta' on the dalit community".
The leaders said despite being part of this composite Punjabi culture the finance minister was encouraging marginalization and victimization of Dalits by supporting the ill-deeds of his brother in law Jojo.
"This also explains the discriminatory attitude of Manpreet Badal towards the dalit community. The finance minister has steadfastly refused to release funds for several dalit schemes including scholarship fee for scheduled caste students and Shagun scheme which helps in the marriage of dalit girls besides those belonging to under-privileged backgrounds", the leaders added.
 Stating that enough was enough, the SAD leaders said now the dalit community would make both Manpreet Badal and his notorious bother in law Jojo mend their ways. "In case they don't apologize immediately to the community at large we will launch a campaign against them and gherao them wherever they go. The SAD will also approach the National Commission for Scheduled Castes to demand action in this matter. We will not relent till they apologize for their misdeeds", they added.
-PTC News