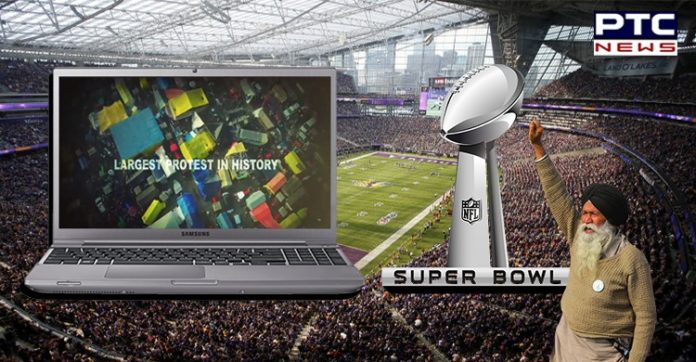 This year, Super Bowl football championship game which is also one of the most-watched events on American television, featured a 40-second commercial in support of farmers.
Also Read | Punjab MC Elections: 'Farmer on tractor' most desired symbol
The 40-second ad showed its support to the farmers' protest in India. It was aired in the Fresno region of USA's Central Valley during the Super Bowl on Sunday, 7 February.
The video opened with a quote by Martin Luther King Jr, "Injustice anywhere is a threat to justice everywhere." The video had news clips with visuals from the protests which have been going on since November last year.

Also Read | Thousands of farmers gather at Haryana's Charkhi Dadri Mahapanchayat
The ad closed with a message from Jerry Dyer, mayor of the city of Fresno, California, who says, "We want you to know, our brothers and sisters in India, that we stand with you."
The video has been produced by Tejivideo, a local photography and video production company.
The Super Bowl is the annual championship game of the National Football League. Since 2004, the game is played on the first Sunday in February. It is the culmination of a regular season which begins in the late summer of the previous year.
In India, the farmers' agitation for repeal of three agriculture laws has entered its 75th day today. Amidst the cold and dense fog, farmers are stranded on all the borders of Delhi. Many farmers have lost their lives so far due to farmers agitation.

The farmers have been protesting against the Farmers (Empowerment and Protection) Agreement on Price Assurance and Farm Services Act, 2020, Farmers' Produce Trade and Commerce (Promotion and Facilitation) Act, 2020, and Essential Commodities (Amendment) Act, 2020.
-PTC News