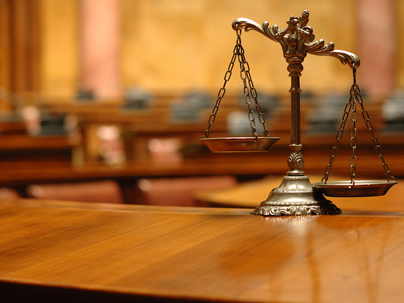 Dhaka: A top court in Bangladesh today upheld the death penalty of two Islamist militants for the brutal murder of a secular blogger in 2013 that had set off a chain of attacks on liberal writers in the Muslim-majority country.
A two-member bench of the High Court upheld the death penalty of the two members of the banned Ansarullah Bangla Team (ABT), said court officials.
The court also gave different jail terms to six others in the case, 16 months after a fast-track tribunal handed down the death sentences to the two ABT members for hacking to death secular blogger Ahmed Rajib Haider in February 2013.
"The HC bench confirmed the tribunal verdict after the analogous hearing of (mandatory) death reference and appeal hearing by the convicts who faced the trial," a spokesman of attorney general's office said.
Redwanul Azad Rana and Faisal Bin Nayem, who were given the death penalty, were students of a top private university.
The six given varied jail terms included ABT's so-called 'spiritual guru' Mufti Jashim Uddin Rahmani, who was sentenced to five-year imprisonment for provoking the students to kill Haider.
Rana, the main suspect in the murder of the writer-blogger Avijit Roy in February 2015, is absconding.
The ABT, said to be ideologically inclined to al-Qaeda, is one of the two main militant outfits active in Bangladesh. The other is the Islamic State-affiliated Neo-Jamaatul Muhahideen Bangladesh (neo-JMB), which carried out the July 1, 2016, attack on an upmarket cafe in Dhaka that killed 22 people.
Haider, 35, an architect by profession, was killed near his house in Dhaka's Mirpur area. Days ahead of his death, he had began a movement demanding the highest punishment for the 1971 war criminals.
His was the first of at least five similar attacks on liberal writers in Bangladesh.
Bangladesh-born American blogger and science writer Avijit Roy, 42, was killed in Dhaka in February 2015. A month later blogger Washiqur Rahman, 27, was killed in Tejgaon area.
Other victims were Ananta Bijoy Das, 33, a banker and founder of the Science and Rationalist Council; Niloy Chakrabarti, 40, who wrote under the pen name 'Niloy Neel'; and Faisal Arefin Dipan, 43, the publisher of a bestselling book by Avijit Roy.
Since 2013, Bangladesh has witnessed a number of Islamist attacks on foreigners, liberals and religious minority with the Islamic State and the al-Qaeda making competing claims.
The government, however, has consistently dismissed their claims, saying foreign terrorist groups have no presence in Bangladesh and the attacks were carried out by homegrown outfits.
Bangladesh banned ABT in 2015 but its operatives regrouped under Ansar al-Islam, which too was outlawed last month, and one of its key organisers, a renegade army major, carries a bounty on his head and is being pursued by security agencies.
Authorities believe sacked army major Syed Ziaul Haque is the mastermind of the attacks on the secular writers.
In recent weeks, Bangladesh has carried out at least four security campaigns against militants, including in Sylhet where army commandos were called in to neutralise militants after a four-day operation.
The more-than-a-week-long security campaigns in Sylhet, Comilla and Maulvibazaar resulted in at least 22 deaths.
—PTI