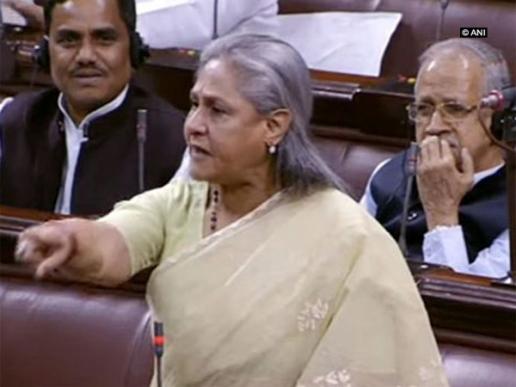 New Delhi: Expressing anguish over BJP's youth wing leader Yogesh Varshney's comments offering a reward of Rs. 11 lakh for West Bengal Chief Minister Mamata Banerjee's head, Samajwadi Party's Rajya Sabha MP Jaya Bachchan on Wednesday said that the saffron party was keen on protecting cows but not women.
Speaking in the Rajya Sabha on the issue, the actress-turned politician said very aggressive steps have to be taken for protection of women.
"You can save cows, but not women. Women have been persecuted. How can you talk like this that too against a woman?" said Bachchan.
"The women today are feeling really so insecure. Is this something (that) you should be promoting?" she asked while lashing out at Prime Minister Narendra Modi-led BJP Government at the Centre.
Varshney, a member of the Bharatiya Janata Yuva Morcha, issued the outrageous threat while hitting out at the TMC supremo over police action on a rally held on Sunday to mark Hanuman Jayanti in Birbhum, around 180 km from Kolkata.
— ANI