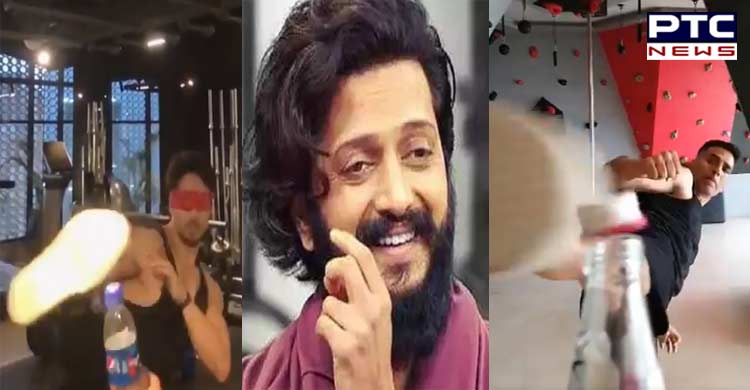 Bottle Cap challenge which was started by the Hollywood actor Jason Statham has taken the Internet on rage with several people sharing their successful or failed attempts, moreover some comic elements.
https://twitter.com/realjstatham/status/1145729134037020674
There were some Bollywood actors who joined the campaign too. Actor Akshay Kumar, Tiger Shroff, Riteish Deshmukh, Ryan Reynolds, and Kunal Kemmu joined the challenge. There were some successful attempts by some but failed attempt by Ryan Reynolds and a comic part from Kunal.
https://twitter.com/akshaykumar/status/1146282714586329090
Among the best performers is Akshay Kumar, Tiger Shroff who took the challenge to a notch higher. While Akshay Kumar did the Jason style for Bottle Cap challenge, Tiger Shroff did it blindfolded. Likewise, the tweeple applauded him for the same.
https://www.instagram.com/p/Bze3q9InaIN/
Meanwhile, Ryan Reynolds who is best known for the character of Deadpool posted the video in his own style. In a vide shared by Ryan, the bottle makes round on the streets and when it comes for the showtime, Ryan ends up breaking the bottle.
https://twitter.com/VancityReynolds/status/1146480180946452480
Likewise, Kunal Kemmu gave it a try and ended up picking the bottle cap directly, and of course why not, let's open the bottle cap directly and open it, sip it, as simple as it could be.
https://twitter.com/kunalkemmu/status/1146651680559079424
The best was from Ritesh Deshmukh, who shared the video of Akshay Kumar and captioned it as I couldn't resist either!!! That's my #bottlecapchallange with an @akshaykumar mask... beware he may claim it's him.... as a good friend I will allow him that much !!! My next challenge video is with a @iTIGERSHROFF mask...".
https://twitter.com/Riteishd/status/1146436085079322624
He even gets replied from Akshay Kumar on this through a hilarious meme.
https://twitter.com/akshaykumar/status/1146659129370431488
Lol, that shows his sense of humor and he deserves to the winner of Bottle Cap challenge.
-PTC News