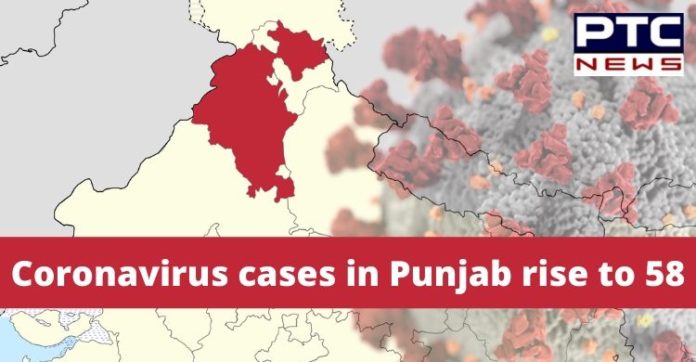 The total number of coronavirus cases in Punjab has increased to 58 after a fresh case was reported from Faridkot. A 35-year-old man has tested positive in Harindra Nagar, Faridkot. Earlier on Friday, three people tested positive in Mansa who had attended a religious congregation at Nizamuddin in Delhi.

Likewise, 3 people, who came in contact with former Hazuri Raghi of Sri Harmandir Sahib (Golden Temple) Bhai Nirmal Singh Khalsa, tested positive for coronavirus in Amritsar. Then, two cases were reported from Mohali on Friday, who had also attended a religious congregation at Nizamuddin in Delhi.

Also, Ropar reported its first case of the pandemic from a village in Ropar's Morinda on Friday. Soon after Bhai Nirmal Singh Khalsa passed away due to the pandemic on Thursday, the Punjab Government, in an order to contain the coronavirus spread, released a list of 31 people who came in touch with him.
ਫਰੀਦਕੋਟ 'ਚ ਸਾਹਮਣੇ ਆਇਆ ਕੋਰੋਨਾ ਦਾ ਪਹਿਲਾ ਮਰੀਜ਼

Faidkot report it's first positive case of #coronavvirus, Punjab cases stand at 58ਫਰੀਦਕੋਟ 'ਚ ਸਾਹਮਣੇ ਆਇਆ ਕੋਰੋਨਾ ਦਾ ਪਹਿਲਾ ਮਰੀਜ਼#Punjab #PunjabiNews #PunjabiLatestNews #PunjabPolice #CoronavirusOutbreak #CoronavirusPandemic #CoronavirusCrisis #CoronavirusIndia #COVID19 #COVID19India #IndiaFightsCorona

PTC News यांनी वर पोस्ट केले शुक्रवार, ३ एप्रिल, २०२०
A 69-year-old female was tested positive in Shimlapuri in Ludhiana on Thursday. Meanwhile, the Shimlapuri area has been sealed in an order to prevent the spread of coronavirus.
Death toll in Punjab
The first death was reported when Baldev Singh, a resident of Nawanshahr, died due to coronavirus. The second death was reported when a man identified as Harbhajan Singh, a resident of Hoshiarpur died in a hospital in Amritsar.
Also Read | No decision yet on extending curfew, clarifies Punjab CM
Third, a 65-year-old man who tested positive in Nayangaon, Mohali, died due to coronavirus. Fourth, a Ludhiana resident, a 42-year-old woman identified as Pooja, died due to coronavirus. The fifth was Bhai Nirmal Singh Khalsa who succumbed to the disease on Thursday.
-PTC News