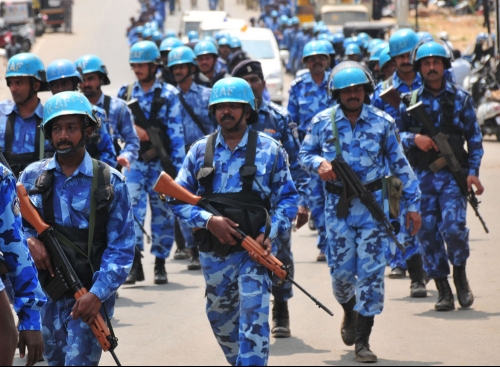 PUNJAB CM AUTHORISES DGP TO IMPOSE CURFEW IF NEEDED TO MAINTAIN LAW & ORDER
ARMY ON STANDBY TO TACKLE ANY TROUBLE IN VIEW OF COURT VERDICT IN RAM RAHIM RAPE CASE
Even as the Army was put on standby to avert any trouble in view of the impending court verdict in the Ram Rahim rape case, Punjab Chief Minister on Thursday authorised the DGP to impose curfew, if necessary, to maintain law and order in the state.
Interacting with media persons after the cabinet meeting here, the Chief Minister said the Western Command of the Indian Army was on standby to tackle any eventuality arising out of the judgement, expected on Friday afternoon.
Captain Amarinder said he had authorised the state Director General of Police to take any decision he deemed fit, including imposition of curfew if needed, in order to ensure the safety and security of the people. The entire police force was keeping a tight vigil to maintain peace and tranquility in the state, said the Chief Minister, who is personally monitoring the situation.
Any attempt to foment trouble in the state will be dealt with an iron hand, the Chief Minister said, adding that a tight security blanket had been put in place across the state.
Police personnel on the ground, under the supervision of senior officers, were maintaining strict vigil, particularly in the sensitive districts of the state. The Chief Minister said he had directed the security forces to be prepared to respond sternly to any attempt to disrupt the state peace.
More than 12000 Punjab Police personnel were on the ground, along with 85 companies of paramilitary forces, to secure the state, he added. The 7000-odd cops still under training had also been called out and deployed to strengthen the security, said Captain Amarinder.
Nobody wants troubled in Punjab and we will not allow anyone to vitiate the state atmosphere, Captain Amarinder said, adding that the Dera Sacha Sauda Premis are also Punjabis and do not want to destroy peace. Pointing out that all religious bodies, including the SGPC, had also appealed to the people to remain calm, the Chief Minister said it was in the interest of all the people of the state to ensure that the state remains peaceful at all costs.
While the government could not interfere in a judicial decision, it was duty-bound to be prepared, he said, assuring the people of Punjab that nobody would be allowed to compromise the state hard-earned peace.
Punjab government offices in Chandigarh have been closed for the day tomorrow, along with schools and colleges in the state. Internet services were being suspended for 72 hours beginning Thursday evening following a collective decision to this effect by the authorities in Punjab, Haryana and Chandigarh.
-PTC News