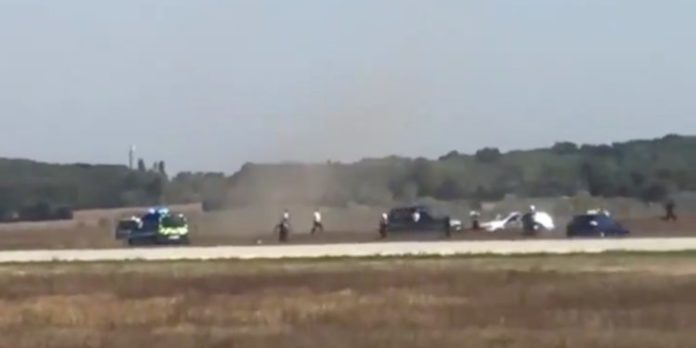 Flights at French Airport Grounded After Man Speeds his car Onto Runway; watch video
Flights at an international airport in Lyon, France, have been grounded after a man rammed a car into the terminal building the sped onto the runway. He was later detained.
According to the Lyon local government, the male driver first drove the wrong way down a highway and crashed into a barrier at a small aerodrome.
He then headed toward Lyon's Saint-Exupéry international airport, before ramming the car through two glass doors and through a terminal building, Reuters reported, citing police and law-enforcement sources.
The driver the sped on to the runway, government spokeswoman Christelle Monteagudo said.
The driver, dressed in dark clothing, then abandoned the car and fled on foot.
Multiple police officers, police cars, and a helicopter chased him before ultimately detaining him, Reuters reported, citing police.
The suspect's motives are not known at this point, the Associated Press cited Monteagudo as saying.
Also Read: 'Crying, stressed' pilot caused deadly Nepal plane crash: probe
Video posted to social media shows the closing moments of a dramatic chase scene, where a white car speeds past the runway, with police in pursuit.
La vidéo de l'interpellation. pic.twitter.com/uWYZGFEIl8

— D@vid (@DavidPeste) September 10, 2018
-PTC NEWS