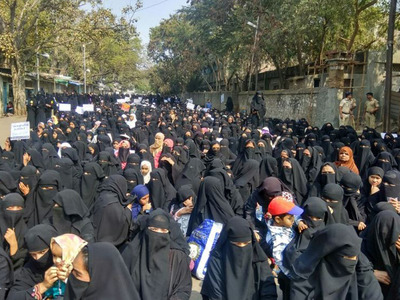 Women members of the All India Muslim Personal Law Board (AIMPLB) Saturday held a silent protest at Azad Maidan here against the triple talaq bill, calling it "defective", "legally flawed" and "against the Constitution".
Asma Zahra, head of the AIMPLB's women's wing, termed the Muslim Women (Protection of Rights on Marriage) Bill, 2017 "anti-women, anti-children, anti-social and aimed at destroying families by sending men to jail".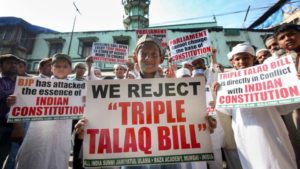 "The Muslim Personal Law Board submitted five crore signatures to the Law Commission in favour of Muslim Personal Law, and out of these, two crore 80 lakh signatures belonged to women," she said.
Hundreds of burqa-clad women participated in the silent protest holding placards printed with slogans opposing the bill.
"Women do not want any interference in personal laws. Religious freedom is a fundamental right guaranteed in the Constitution. The Supreme Court judgment on August 22, 2017 had set aside triple talaq as null and void. The present Bill criminalises the offence and this is against the rights of women," Zahra said.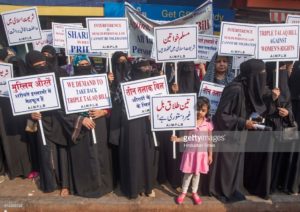 Today's protest adopted a few resolutions, she said, and these included opposition to the triple talaq bill, opposition to any change in the Muslim Personal Law as well as to attempts to bring a Uniform Civil Code.
A resolution that 99 per cent of women had faith in the AIMPLB was also adopted, she said.
The Muslim Women (Protection of Rights on Marriage) Bill, 2017 was passed by the Lok Sabha and is now pending approval of the Rajya Sabha. PTI