Delhi: Bharatiya Janata Party (BJP) workers protest against the Aam Aadmi Party (AAP) government on Friday in Delhi ahead of the bail plea hearing of former Deputy Chief Minister Manish Sisodia in the liquor policy case.
They also put up posters naming Chief Minister Arvind Kejriwal and Former minister Satyendar Jain, who is currently in Tihar Jail in a money laundering case.
Also Read | Sikh leader in California Rajvir Raj Singh Gill held for plotting to burn down gurdwara
Manish Sisodia was brought to Delhi's Rouse Avenue Court in connection with alleged irregularities in the now-scrapped liquor policy.

The Enforcement Directorate has also moved the court seeking Sisodia's custody for 10 days.

"Same things will happen with Arvind Kejriwal which happened with Manish Sisodia. After CBI, ED also arrested Manish Sisodia on the basis of proof," said BJP leader Manoj Tiwari who was present at the protests.

Tiwari also added, "Delhi's public will not believe in them now. They (AAP) have ruined the state."
Notably, both Central Bureau of Investigation and the Enforcement Directorate (ED) arrested Sisodia in the liquor policy case, after hours of questioning at Tihar Jail.
The ED began questioning the senior AAP leader and one of the party's founding members, days after it recorded his statement on Tuesday.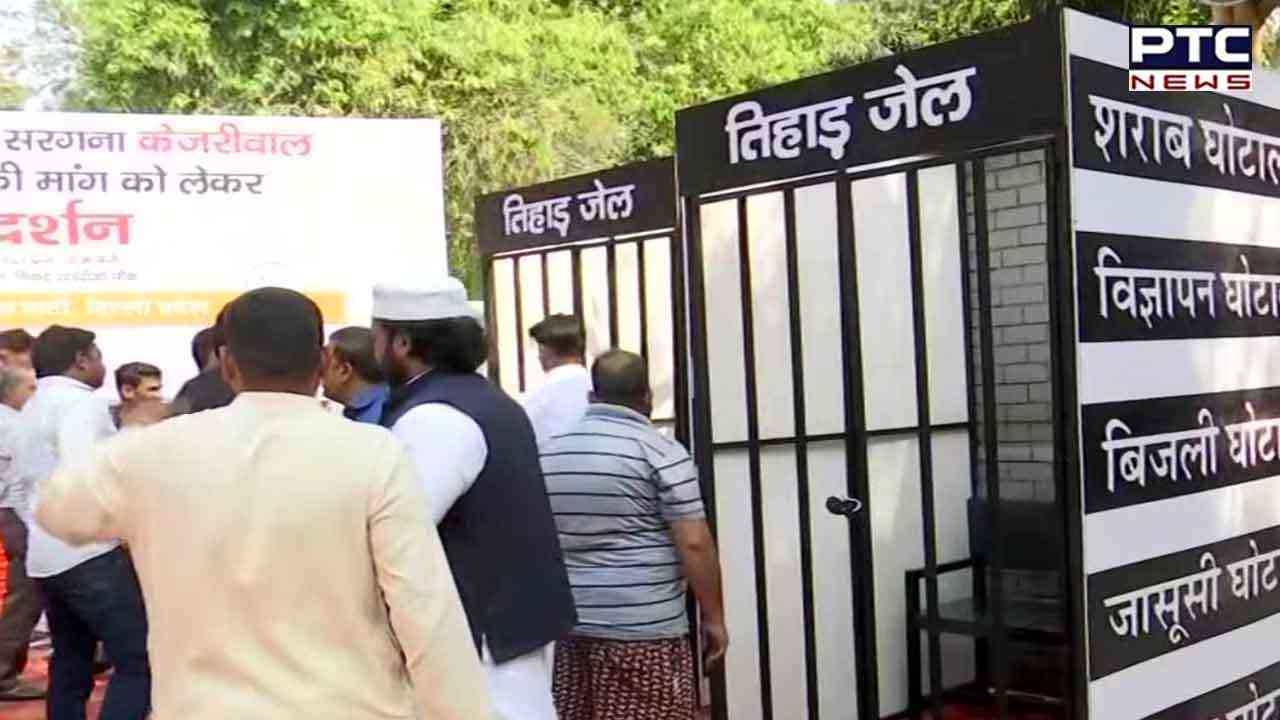 Sisodia was arrested by the CBI in the liquor policy case on February 26 and was sent to 14-day judicial custody on March 6.
Sisodia was arrested by the CBI earlier in its ongoing investigation of a case related to alleged irregularities in the framing and implementation of the excise policy of the National Capital Territory of Delhi (GNCTD). Delhi's Rouse Avenue Court sent him to Judicial Custody till March 20.
The CBI filed its first charge sheet in the case earlier.
The ED and the CBI had alleged that irregularities were committed while modifying the Excise Policy, and undue favours were extended to licence holders. It was further alleged that the licence fee was waived or reduced and the L-1 licence was extended without the competent authority's approval. The beneficiaries diverted "illegal" gains to the accused officials and made false entries in their books of account to evade detection.
Also Read| Satish Kaushik's old picture with daughter Vanshika leaves fans, friends emotional
It was also alleged that the Excise department had decided to refund the Earnest Money Deposit of about Rs 30 crore to a successful tenderer against the set rules.
This allegedly caused a loss of Rs 144.36 crore to the exchequer, the agencies claimed.
- ANI