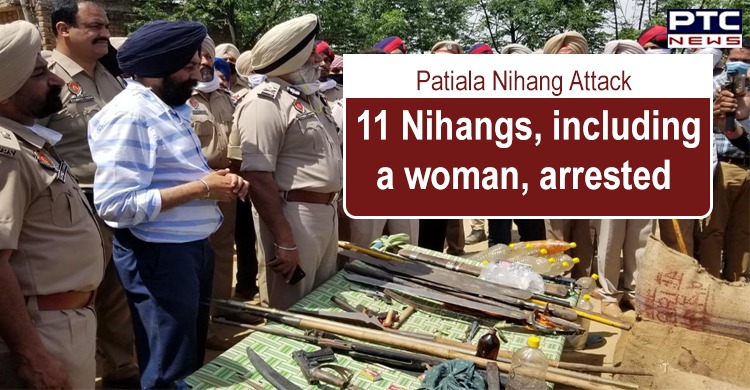 Eleven persons were on Sunday arrested in connection with the attack on police at the vegetable market in Sanaur in Patiala on Sunday morning, in which an ASI's hand was chopped off by a group of Nihangs. The accused, including a woman, were nabbed after the Patiala Police led by Jatinder Aulakh IG Patiala Range and Mandeep Sidhu, SSP Patiala, were fired upon from inside the Nihang Dera Complex which also houses Khichdi Sahib Gurudwara.

The operation followed several hours of stand-off and many rounds of appeals and negotiations to surrender with their weapons and swords but the Nihangs refused to surrender. One Nihang, Nirbhav Singh, suffered an injury in the incident and was immediately rushed to Patiala Hospital.

The accused included the five persons involved in the attack on the Punjab Police posted at the vegetable market in Sanaur on Sunday. The accused had crashed through a series of barricades and attacked the police personnel who inquired about their curfew passes, said DGP Dinkar Gupta. Adding, he said that Baba Balwinder Singh, the Nihang Head, was the main perpetrator of the attack on the police party at the Patiala Sabzi Mandi. He came to the market with four other persons, in a Tata Zenon vehicle.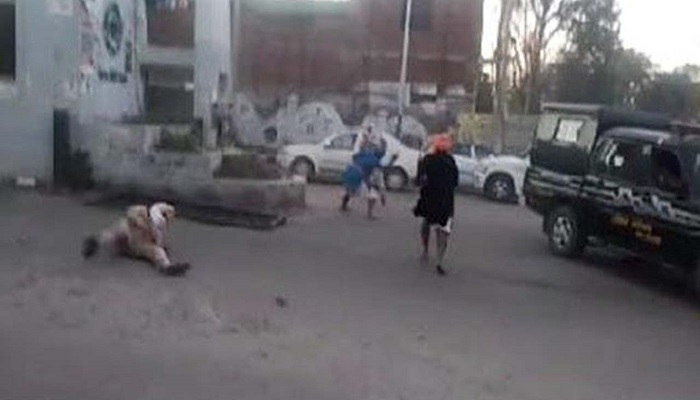 Meanwhile, Punjab Chief Minister Captain Amarinder Singh condemned the attack. He said, "Police Party on Naka duty was attacked today in which one ASI's hand was cut off and 6 were injured. Police cornered the culprits and have taken them into custody. Have given instructions to the Punjab Police to deal with anyone breaking the law in a strictest possible manner." He added that "I am proud of the Punjab Police party under SI Bikkar Singh for professionally handling this situation. ASI Harjeet Singh is undergoing plastic surgery in PGI-Chandigarh, praying for a successful surgery."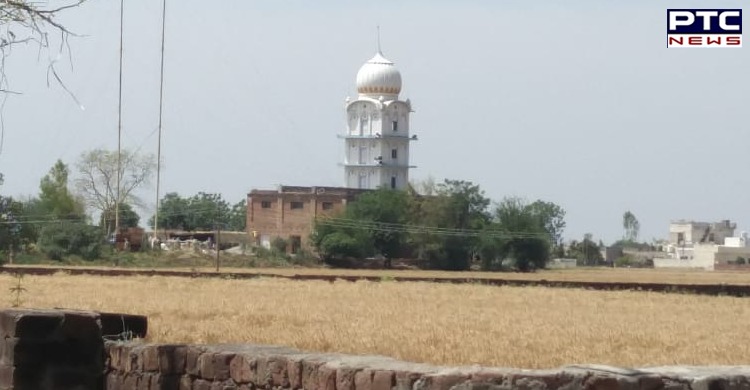 Punjab DGP Dinkar Gupta said a huge cache of weapons as wells as handheld weapons, such as barchhe and kirpans, and some used cartridges were seized from the accused. Also, two petrol bombs and LPG cylinders, 5 bags of poppy husk mixed with sulpha, other drugs in commercial quantity and Rs 39 lakhs in cash were recovered.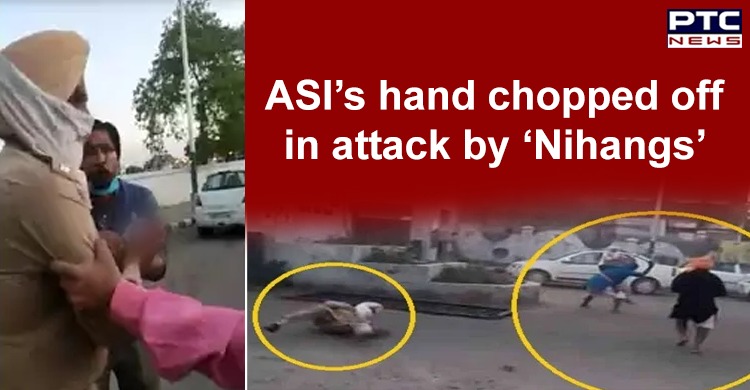 ASI Harjit Singh (2155), whose hand was chopped off with a sword during the attack, is undergoing plastic surgery at PGI Chandigarh for suturing back his hand, said the DGP. Meanwhile, two separate cases have been registered against the accused. The first has been registered for the incident at Sabzi Mandi, Sanaur Road, Patiala at PS Sadar Patiala for Attempt to Murder, grievous hurt, rioting, attack on public servant under the IPC, and also under provisions of the Disaster Management Act, 2005. FIR No 70 dt 12.4.20 u/s 307, 323, 324, 326, 353, 186, 332, 335, 148, IPC, along with 188 and 51 DMA Act 2005 have been registered at PS Sadar Patiala against Balwinder Singh, Jagmeet Singh, Bant Singh and Nirbhav Singh.
Also read | Sukhbir Singh Badal, Harsimrat Kaur condemn Nihang attack on cops in Patiala
The second case has been registered against 11 persons, including the woman, at PS Passiana, Patiala (FIR no 45 dt 12/04/2020) for Attempt to murder, Attack on Police Party, 54 DMA Act 2005, Sections 3,4 Explosives Act, sections 13,16,18,20 of UAPA Act 1967, Sections 25,54,59 Arms Act.
-PTC News